Australia
Italy wins through to Euro 2020 semi-finals with 2-1 win over Belgium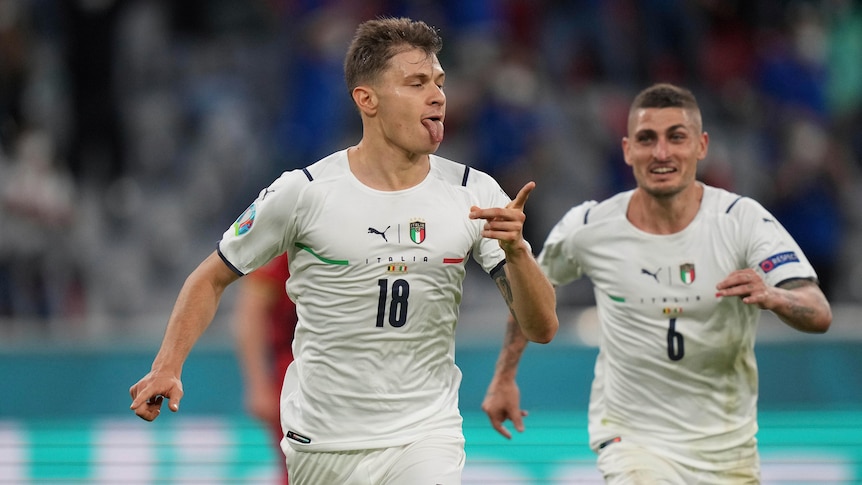 Italy has beaten Belgium 2-1 in Munich, underlining their status as tournament favourites after a pulsating Euro 2020 quarter-final of the highest quality.
First half goals to Nicolò Barella and Lorenzo Insigne helped Italy to a 2-0 lead, before Romalu Lukaku reduced the deficit from the penalty spot just before the break.
Belgium had chances to equalise in a tense yet entertaining second half, but Italy's defence held firm to put Roberto Mancini's side into the semi finals, extending their unbeaten streak to 32 matches.
Loading
Italy will meet Spain at Wembley in the semi final after La Roja's shootout victory over Switzerland earlier in the day.
This match had been billed as the battle between the two favourites for the competition, and neither side disappointed in what was a thrilling contest from the outset.
Italy had the ball in the back of the net after 13 minutes, Leonardo Bonucci chesting home from a free kick, but Giorgio Chiellini, who had flicked the ball on, was offside.
Belgium threatened early too, with Kevin de Bruyne and Romalu Lukaku both forcing brilliant saves from Gianluigi Donnarumma either side of that disallowed goal.
However, it was Italy who did eventually open the scoring when Barella scythed his way through the Belgian defence before slamming the ball past Thibaut Courtois in the 31st minute.
Italy doubled its lead thanks to a sumptuous solo strike of the highest quality from Insigne.
The Napoli skipper picked up the ball in his own half and raced to the edge of the penalty area, skipping past a tentative Youri Tielemans challenge on the way, before precisely curling the ball past Courtois into the top corner.
Belgium were handed a lifeline in stoppage time when Giovanni di Lorenzo pushed 19-year-old Rennes progeny Jérémy Doku in the penalty area, Romalu Lukaku slamming home from the spot to reduce the deficit.
Loading
Lukaku had a wonderful chance to equalise in the second half after some excellent work from Doku and de Bruyne down the left, but could not convert after Leonardo Spinazzola got back to effect the block.
Shortly after, Lukaku came within a whisker of getting his head to a deflected Nacer Chadli cross, but the ball bounced tantalisingly over him and away from danger.
Spinazzola later left the field on a stretcher after suffering a leg injury when he slipped on the turf, the only blemish on what was otherwise a perfect night for Italy as they chase a first European Championships title since 1968.
Relive all the action as it happened in our live blog.
Live updates
Ciao for now
After Spain were not entirely convincing in beating Switzerland on penalties, Italy will be favoured to get through that semi-final, but that has the makings of another classic as well.
For now they'll be celebrating their success at making it this far – in the context of them missing the last World Cup entirely. It's safe to say now that Italy are back, no matter what happens from here. 
Belgium, meanwhile, look to be ending their 'Golden Generation' without a trophy to show for it. I doubt 4-5 of these guys will still be around in the national team for the World Cup in 18 months time.
Anyway, that'll do from us. We'll be back tomorrow for live coverage of Ukraine vs England. 
Bye for now, I'm going to throw myself into a cup of coffee.
Italian players are hugging people in the crowd … which doesn't seem like the best idea in these troubled times. 
Key Event
Full-time: Italy wins 2-1 and are through to the semi-final!
90+7′ Corner for Belgium
Last chance saloon. It's gone behind goal. That should be it. 
90+6′ Belgium goes long
They're aiming straight for Lukaku now, but Italy have dealt with it well every time. 
Chiellini belts it downfield, no thought of playing it out from the back now. 
90+5′ Donnarumma has the ball
Belgium started to build from the back but a long ball forward is collected by the keeper. About a minute or two left, Italy have the ball in attack now.
Donnarumma is back up. We're 3 minutes into 5 minutes of injury time, but the ref might well add more, because there have been multiple delays.
90′ Yellow card for Berardi
He leaps forward to block De Bruyne's free kick but he was far too close. De Bruyne was going for goal, something for Donnarumma to think about. De Bruyne gets to try again.
Free kick for Italy! Donnarumma races out and he's fouled. He's stayed down a long time, either because he's genuinely injured or to wind down the clock. 
88′ Belgium lump it forward to Lukaku
Italy deal with it well. But Belgium try again and this time he's able to hold it up and build the attacking play. 
De Bruyne wins a free kick in a good position. 
86′ Italy hanging on
A bit risky, this tactic, they are sitting right back and waiting for Belgium to come at them. 
Doku makes another run but Jorginho makes a terrific tackle to dispossess him. Italy have a free kick which will buy some time. 
84′ Hero run from Doku
Belgium's most threatening player dances in from the left, cutting past defender after defender before unleashing a shot – which in the end is a bit wild and it flies well over. 
81′ What can Belgium come up with?
10 minutes of regular time left after that long break while Spinazzola was replaced. Belgium will have to throw caution to the wind. They'll get their chances, but also risk exposing themselves at the back.
76′ Spinazzola has done his hammy!
He's slipped while chasing his own header forward, and immediately called to be replaced. Huge loss for Italy, he's been one of their best through this tournament. 
Very sad images as he's in tears on the ground. He knows his tournament is over. He's replaced by Emerson.
15 minutes to go in this instant classic!
72′ Chadli is injured!
Moments after coming on, he's hurt his thigh in making that cross before. Praet replaces him. Terrible blow for Chadli.
Looks like Belotti and Cristante are coming on for Italy. Verratti goes off, and so does Immobile.
Bad miss from Belgium
You'd back Lukaku 99 times out of 100 in those sort of situations at the back post, particularly the form he's been in so far this tournament.
It was a lovely break, Jérémy Duku has been so lively down the left for Belgium, and linking up in that way with Kevin de Bruyne would have been what Roberto Martinez had dreamed about.
But hats off to Leonardo Spinazzola.
He's been doing the business as an attacking full back at one end, but he got his body in the way here superbly, excellent positioning. You could see what it meant to Giorgio Chiellini too. 
70′ Belgium come very close!
The subs immediately inject some life into the Belgian attack, with Mertens feeding Chadli who crosses and it's deflected CENTIMETRES from Lukaku's forehead. 
Tielemans and Meunier come off for Mertens and Chadli. Attacking move from Roberto Martinez. 
68′ Immobile botches another chance
He tries the volley after nice build up play again and misses completely. I feel he'll be hooked very soon for Belotti. 
Insigne shoots from distance again, and Courtois pushes it back out, almost to Chiesa.
66′ Spinazzola with a huge chance!
Great movement from the energetic left back who tries to make contact with a tricky ball into the box. If he had made contact it almost certainly would have ended up in the net.