Australia
Swans and Giants AFL players forced into isolation after visiting Melbourne exposure site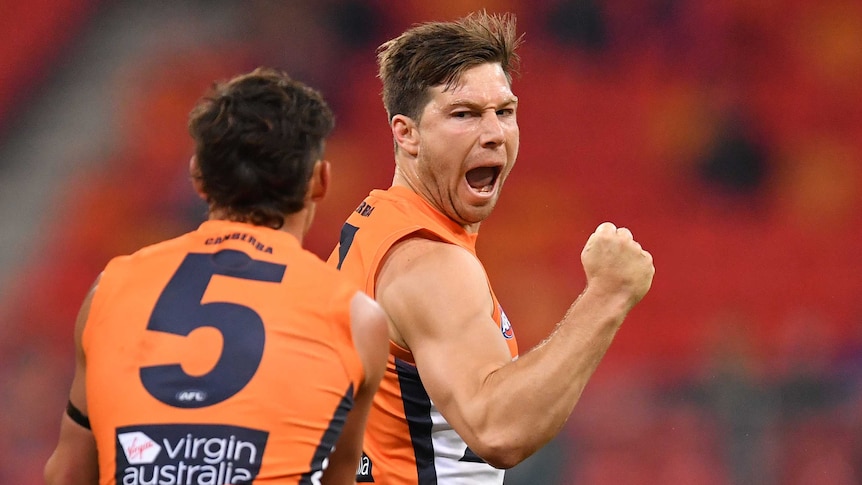 Sydney Swans and GWS Giants players have been forced to withdraw from Sunday evening's match on the Gold Coast after visiting a COVID-19 exposure site in Melbourne last Tuesday.
Key points:
Toby Greene (Giants) and Callum Mills (Swans) were among the players withdrawn from the match
The players and staff from the two clubs forced into isolation had attended the Wallabies' rugby union Test in Melbourne last Tuesday
The match between the Giants and Swans went ahead as scheduled on the Gold Coast
Six Swans players and staff members, along with a group of nine Giants players and staff, are in isolation in Queensland after attending the Wallabies' rugby union Test against France at Melbourne's AAMI Park.
GWS stars Toby Greene and Matt de Boer — who was to be the Giants' medical substitute — were among the players to withdraw from Sunday evening's match, while Callum Mills, Harry Cunnigham and Colin O'Riordan (medical substitute) were ruled out of the Swans' line-up.
Giants players Kieren Briggs and Jake Stein, and Swans ruckman Callum Sinclair were also isolating.
The Victorian Department of Health re-classified a section of AAMI Park where the players sat on Tuesday evening as a tier 2 exposure site.
The AFL made the announcement about the players and staff, who have been reclassified as tier 2 contacts, less than an hour before the two teams were to take their field in their Sydney derby in Carrara.
"Each of these players and staff members, currently located in Queensland and under Queensland Department of Health requirements must isolate until notified by the Department," the AFL said in a statement.
The AFL said it had notified the Queensland government and had acted "in accordance with their directions".
The match went ahead in Carrara at 6:10pm (AEST) as scheduled.
The fixture had earlier been moved from Sydney's Giants Stadium to Ballarat after Greater Sydney went into lockdown amid its COVID-19 outbreak.
But the Victorian government's decision for the state to enter a five-day lockdown last Thursday meant the match was moved again, this time to the Gold Coast.
Green and de Boer were replaced by Tanner Bruhn and Zach Sproule (medical substitute) respectively in the Giants' line-up.
James Rowbottom, Dylan Stephens and Ben Ronke (medical substitute) were the additions to the Swans' matchday squad following the withdrawal of Mills, Cunninhgam and O'Riordan.
Loading form…
Source link