Australia
Live: More Olympic athletics action with women's long jump final and men's 1,500m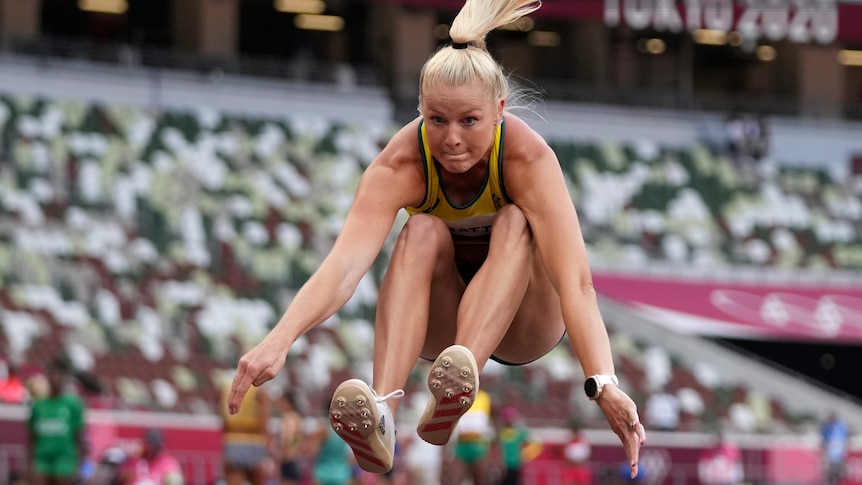 Attention turns to the Olympic Stadium again this moring, with Brooke Stratton starting in the women's long jump final and Stewart McSweyn beginning his 1,500m campaign.
Later today there will be kayak, sailing and sport climbing, and the Kookaburras, Opals and Stingers will all be in action.
Follow all of Tuesday's action in our live blog.
Live updates
Matildas lose tough semi-final against Sweden
It was a sad night at the football, as Sam Kerr and the Matildas could not find a way past Sweden in the Olympic semi-final.
The Australians played better than the Swedes overall, but a disallowed goal to Sam Kerr, but the clincher was a crazy goal conceded at the start of the second half.
"It was a series of micro-moments, a mixture of bad luck and bad decisions, that cost Australia a spot in the final. 
"Filippa Angeldal tried a very optimistic shot from distance, which wouldn't have bothered anybody had it not taken a deflection off Chloe Logarzo's toe. That deflection caused the looping ball to bounce in front of goalkeeper Teagan Micah so she had to back-pedal and tip the ball onto the bar.
"It came back into play, as the keeper lay prone, and two Australian defenders were unable to stop Sofia Blackstenius from playing it back to the elegant assassin Rolfö who, amid all the bedlam, dispatched it with balletic calm."
The Australians now face the United States on Thursday in the bronze medal game.
Andrew Hoy becomes Australia's oldest Olympic medallist
If you weren't following us last night, Australia added two medals in equestrian events – both involving Andrew Hoy!
The veteran eventing competitor, in his eighth Olympic Games, earned his fifth and sixth career medals.
First up, the Australian team — of Hoy, Shane Rose and Kevin McNab — kept their cool in a desperately close final jumping section to seal a silver medal behind Great Britain, with France taking bronze.
Riding Vassily de Lassos, the 62-year-old Hoy then snared bronze in the individual jumping competition behind Germany's gold medallist Julia Krajewski and Great Britain's Tom McEwen, who won silver.
You can read more about Hoy and the Australian team's dramatic night at the jumping here.
.
Welcome!
Hello, good morning and welcome to day 11 of competition at the Tokyo Olympics!
We hope you'll stay with us during the day as we take you through some athletics finals, some sailing, kayaking and track cycling, while later in the day the new sport of sport climbing will begin Olympic competition.
And if you didn't have enough stress last night with the Opals and Matildas, there will be plenty of Aussie teams in action tonight!
Posted 
Source link