Australia
Live: Women's marathon swimming, skateboarding park events get underway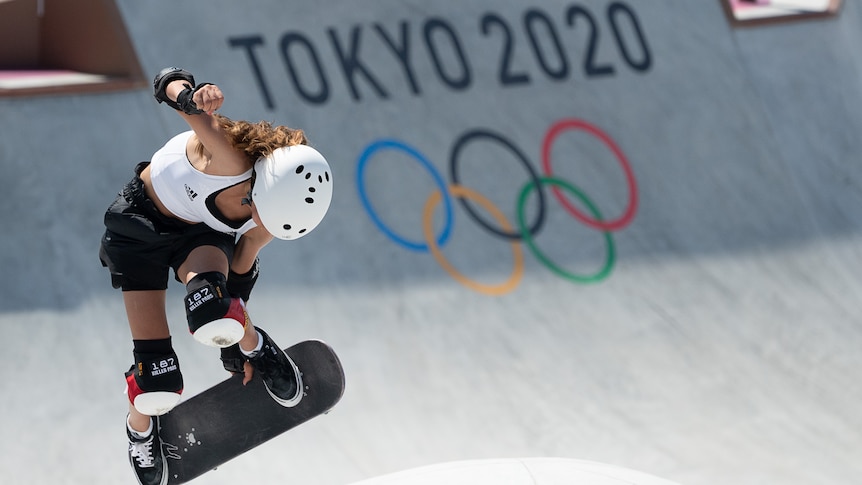 Poppy Olsen will compete for Australia in the women's skateboarding park event, while Kareena Lee is Australia's sole competitor in the women's 10km marathon swimming. Follow live.
See what's coming up across the day with our daily schedule, or check out the medal tally.
Follow all of Wednesday's action in our live blog.
Live updates
What's happening this morning
All times AEST.
Athletics: Ashley Maloney and Cedric Dubler start their decathlon campaign with the 100 metres from 9:00am and the long jump from 9:55am. Nicholas Hough will go in semi final 1 of the 100m hurdles from 11:00am.
Basketball: The Opals play the USA at 2:40pm in the quarter finals.
Canoe/Kayak: Bernadette Wallace 11:12am and Josephine Bulmer 11:19am will contest the heats of the women's canoe single 200m. Alyce Wood competes in her women's kayak single 500m heats at 11:54am AEST, with Alyssa Bull starting at 12:01pm AEST. Jean van der Westhuyzen and Tom Green team up in their men's kayak double 1,000m heat at 12:22pm AEST, with Riley Fitzsimmons and Jordan Wood to follow at 12:30pm AEST.
Marathon swimming: Kareena Lee will go in this at 7:30am, 10km of hard swimming in soupy warm water.
Skateboarding: Poppy Olsen will compete for Australia in the women's skateboarding park event, with the heats starting from 10:00am
SWIMMING: The women's 10,000m open water swim gets underway
The soupy warm (29 degrees!) waters of Odaiba Marine Park await the 25 athletes who are competing in the seven laps of this open water swimming course.
It's an early start, but the temperature will still be very warm and things will be very tough out there.
We're looking out for 27-year-old Noosa athlete, Australian Kareena Lee.
Very different tactics in open water swimming when it comes to swimming in the pool, although it's very, very flat out there so easy sighting.
They're about to get underway now.
Want more Olympics?
Good morning, and welcome to day 98 of the Olympics…
*mumbling*
I'm just being told we're actually only up to day 12. Seems like much longer. Anyway, here we are again, this should be a fun one. 
Here's a picture of Kareena Lee, who's going to swim 10km this morning.
Posted