Australia
Ashley Moloney secures Australia's first Olympic decathlon medal with bronze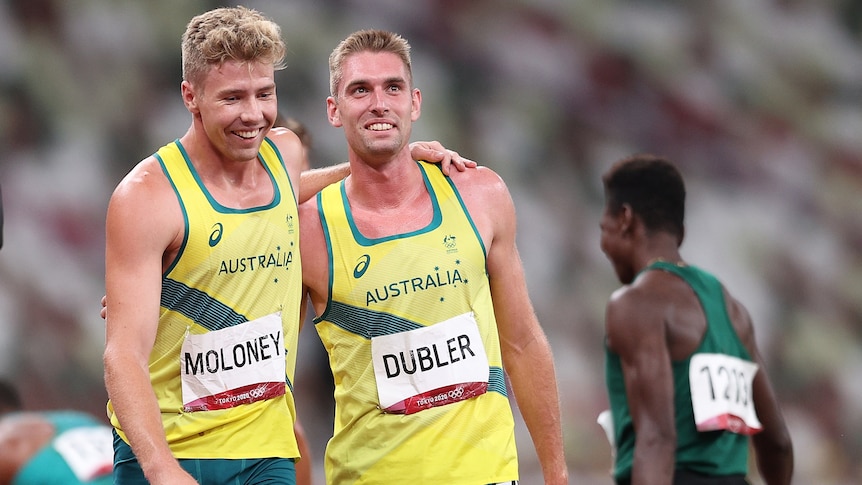 Ashley Moloney, spurred on by teammate Cedric Dubler, has created history by becoming Australia's first medallist in an Olympic decathlon, taking bronze at Tokyo's National Stadium.
Key points:
Moloney was pushed by Dubler in the final event, the 1,500m
The Australian finished with the bronze, 38 points ahead of American Garrett Scantling
Moloney set an Australian record for the decathlon
Moloney's performance also earned Australia its first medal of the athletics program in Tokyo.
The 21-year-old was in third place heading into the final event, the 1,500 metres, but was only 62 points ahead of the fourth-placed Garrett Scantling.
Moloney was feeling the pinch in what was the last of 10 events, but Dubler encouraged and helped pace his training partner during the 1,500m.
Scantling (4:35.54) beat Moloney (4:39.19) home, but the Australian finished close enough to the American to make sure he held onto to third place.
Moloney finished the two-day event with an Australian record of 8,649 points, with Scantling fourth on 8,611.
Canada's Damian Warner won gold with a total of 9,018 points. France's Kevin Mayer (8,726) claimed the silver.
Moloney, the 2018 world under 20 decathlon champion, was full of praise for Dubler following his efforts in the 1,500m.
"He [Dubler] was screaming, I can't repeat what he said," Moloney told ChanneI Seven.
"I could hear his voice bouncing in my cranium like a bat out of hell."
Dubler, who finished in 21st place on 7,008 points, said he was desperate for Moloney to win the bronze.
"I was stressed as," he said.
"I had to obviously run my own race and try and bring him through but also keep an eye on where Pierce [LePage] and Scantling were, and make sure they didn't get too far ahead.
"He had me worried for a little bit then I just started screaming at him and we got him there."
Both Moloney and Dubler are based in Brisbane and train under the guidance of coach Eric Brown.
Moloney had placed no lower than third on the overall standings across the 10 events in Tokyo.
He finished day one in second place, punctuated by a solid 46.29 in the 400m, and held onto the position until the conclusion of the ninth event, the javelin.
Mayer, the silver medallist at the Rio 2016 Olympics, leapt into second with a best throw of 73.09m in the javelin.
The Frenchman finished well behind Warner in the 1,500m, with the Canadian deservedly winning gold after leading the decathlon from the opening event, the 100m.
Warner took the bronze home in the Rio decathlon five years ago.
It was a productive night for Australia elsewhere on the track, with Stewart McSweyn and Ollie Hoare both qualifying for the men's 1,500m final.