Australia
Live: Beach volleyball gold in Australia's sights in Tokyo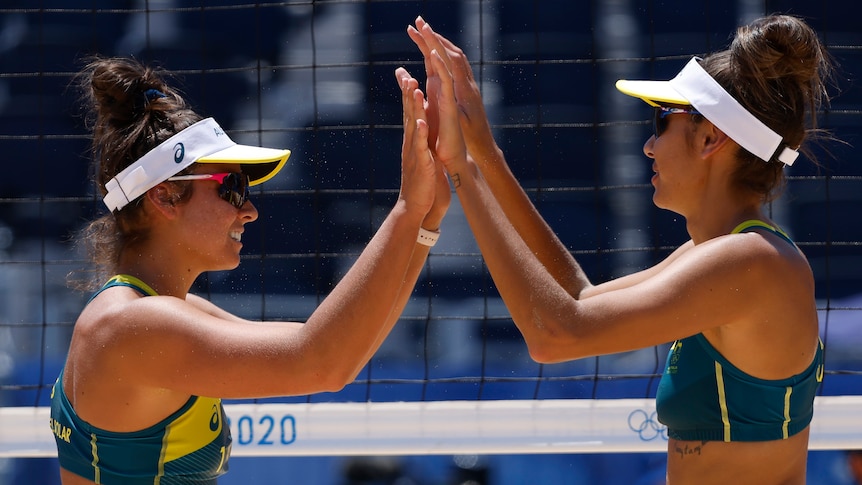 Australia's Mariafe Artacho del Solar and Taliqua Clancy are competing in the beach volleyball final today, with a gold medal up for grabs.
See what's coming up on day 14 with our daily schedule, see where Australia sits on the medal tally or keep an eye on our dedicated Olympics page to stay across more key moments.
Follow all the action from day 14 in our live blog.
Live updates
What's on this morning?
All times AEST
RACE WALKING: Rhydian Cowley is racing in the 50km walk, which started at 6:30am at the Sapporo Odori Park.
GOLF: Hannah Green was on the charge yesterday and is ideally placed. Minjee Lee will also look to race up the leaderboard on moving day from 8:30am.
CANOE SPRINT:

Australia's pair go in heat one of the canoe double 500m sprint at 10:30am.
Ausralia's four will compete in heat two of the women's kayak four 500m at 11:37am.
Australia's men's kayak four will sprint 500m at 11:44am.

RHYTHMIC GYMNASTICS: Lidiia Iakovleva will start her rhythmic gymnastics campaign from 11:20am.
BEACH VOLLEYBALL: Australia's Mariafe Artacho del Solar and Taliqua Clancy will go for gold against the Americans at 12:30pm.
Wha t happened to Ashley Moloney in the decathlon?

-Sleepy
Ash Moloney won Australia's first ever Olympic medal in decathlon. Fellow Aussie Cedric Dubler really pushed Moloney in the final 1,500m race for him to secure bronze. Dubler placed 20th overall. Ten events in two days it was an incredible effort from both of our Australians and the support they showed for each other over other two days was quite special.
Morning all and welcome to another big day in Japan.
Later on, Australia will take on the USA for gold in the women's beach volleyball – hoping to gain revenge for the defeats of yesterday in basketball and football.
On the track, Australia will be represented in the women's 1,500m final. 
Anyway, lots happening, here are the Olympic events to watch out for on day 14.
Athletics: Day 14 gets underway with men's 50km race walk final 
Australia's Rhydian Cowley sitting 6th, as the men's 50km race walk hits the 5km mark. Cowley is 34 seconds behind world number one Yohann Diniz.
Good morning!
Hi everyone, we're in the home staight now, aren't we?
Should be another big day today after yesterday's shennanigans.
I'm still not sure I've processed yesterday. Objectively it was a great day, with two gold medals, a silver, a couple of bronzes.
But with three out of our four teams failing in their key clashes, it was also a bit flat. 
Anyway, there's lots to look forward to today, not least of which is our women's beach volleyballers going for gold against USA. 
Posted