Australia
Keira Stephens, Katja Dedekind add more medals to Australia's tally, Steelers keep dream alive with win — as it happened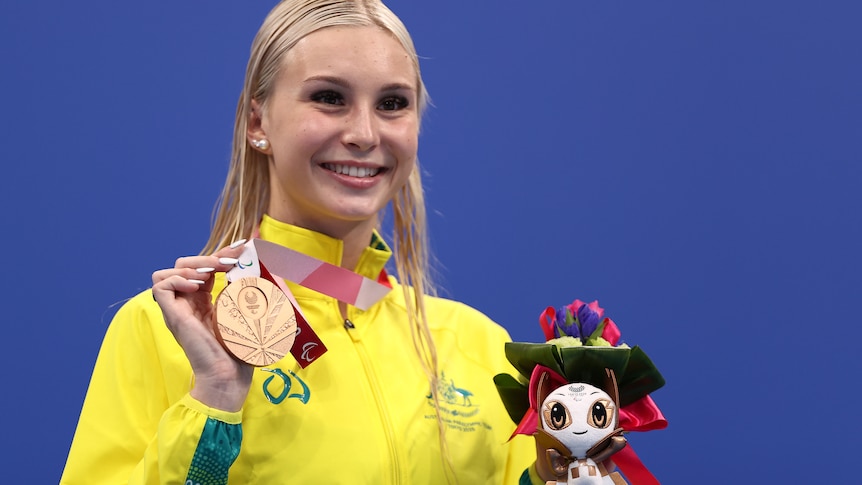 Australia has increased its medal haul with three bronze and one silver, while the Steelers stayed alive with victory over France.
Check out our dedicated Paralympics page to stay across more key moments.
For information on classifications, check out our sport-by-sport guide.
Catch up on all the action in our blog.
Live updates
That is all for day two
Another great day at the Paralympics.
Multiple medals for our Aussie athletes to add to the medal tally. 
We will be back again tomorrow for day three of action. 
We will see you then. 
TABLE TENNIS: Lei Li Na defeats Kim Kun-Hea 3-1
EQUESTRIAN: Amelia White scores 69.238 in the Grade V individual dressage
It is not enough for a medal but it was a good performance by the Australian.
TABLE TENNIS: Lei Li Na 2-1 Kim Kun-Hea
TABLE TENNIS: Lei Li Na 1-1 Kim Kun-Hea
TABLE TENNIS: Lei Li Na is now on against South Korean Kim Kun-Hea
TABLE TENNIS: Australia's Nathan Pellissier goes down to Piotr Grudzien 3-0
Some of your thought on day two of the Paralympics
Watching the Paralympics def brings a smile to my face! So much talent!!!!

-smiling
It's a bronze rush for Australia today! So proud of our athletes 🥉🥉🥉

-Medal colour of the day
Phwooa this wheelchair rugby game, amazing scenes but so so tense 🙈

-Hiding behind the couch
Ibrahim Hamadtou the table tennis guy from Egypt- legend with awesome skills and my favourite.

-Top Player
Rebecca Julian defeats Egypt's Haaa Ahmed Hammad 3-0 to book a spot in the next round.
This is the Triple Paralympian's best ever result at a Paralympic Games.
EQUESTRIAN: Sharon Jarvis finishes 10th in the Grade IV individual dressage
We love this as much as you
Thank you so much for your coverage! it's so helpful keeping track of all the athletes and events! Legend!

-Hayley
No problems Hayley. 
It is a pleasure to be able to bring you all the action of the Paralympic Games.
A moment to savour in the pool for Keira Stephens
How are we going in the table tennis tonight?
Hi Mick,

Is it possible to summarise how the Aussies are doing in the table tennis? I can't keep up!

Thanks 🙂

-Table tennis rules!
Sure my blog friend
5:00pm: Joel Couglan vs Alabi Olufemi — 3-0 win
5:40pm: Qian Yang vs Tien Shiau Wen — 0-3 loss
6:20pm: Melissa Tapper vs Bruna Costa Alexandre — 0-3 loss
7:00pm: Jake Ballestrino vs Masachika Inoue — 1-3 loss 
7:40pm: Ma Lin vs Chee Chaoming — 3-0 win
9:00pm Rebecca Anne Julian vs Hanaa Ahmed Hammad — still to come
9:40pm Nathan Pellissier vs Piotr Grudzien — still to come
10:20pm: Lei Li Na vs Kim Kun-Hea — still to come
SWIMMING: Tim Disken finishes seventh
Tim Disken swam well in lane eight. 
He was near the medals after 50m but just didn't have enough in the final few strokes. 
A very good swim nonetheless. 
SWIMMING: We have one more Australian racing tonight. Tim Disken is in the final of the men's 100m breaststroke SB8
TABLE TENNIS: Ma Lin is through to the quarter finals after a 3-0 victory
Ma Lin has won his second match of the day and goes through to the quarter finals undefeated in Tokyo. 
He has topped his pool in the men's C9 after a 3-0 victory over Chaoming Chee from Malaysia. 
EQUESTRIAN: Jarvis in seventh after nine riders
What happened to Sharon Jarvis and the equestrian, did she get a medal

-Josh
Hey Josh.
Sharon Jarvis is in seventh spot after nine riders have finished. There are 15 to ride. 
So no medal for Sharon, and she is on the brink of not qualifying for the freestyle event. The top eight qualify for that.
Key Event
SWIMMING: Katja Dedekind wins bronze for Australia
It's another medal for Australia. 
Katja Dedekind has secured our second bronze of the night in the women's 100m backstroke S13.
She was beaten by American Gia Pergolini, who broke her own world record, and Italy's Carlotta Gilli. 
SWIMMING: Katja Dedekind coming up in the women's 100m backstroke S13 final
Posted , updated