Australia
Live: Cycling gold for Australia, Isis Holt to race in 100m track final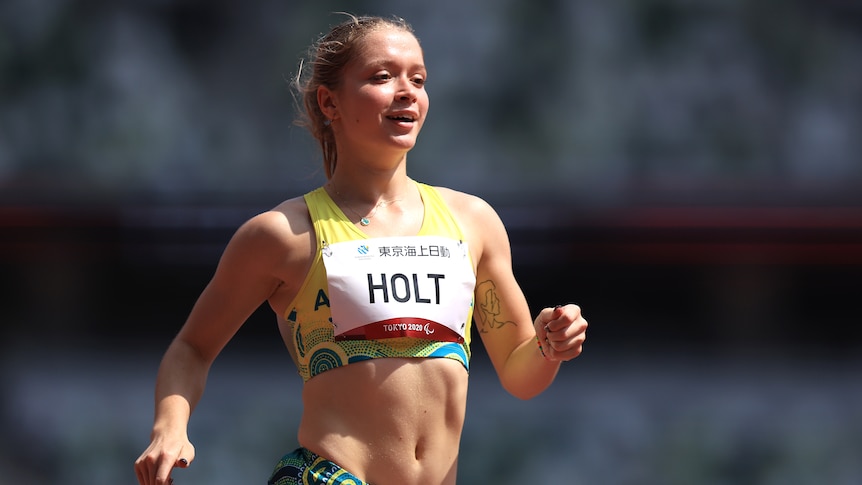 Australia gets a gold medal in the velodrome, and there is a chance of more when Isis Holt runs in the 100m T35 final. 
Check out our dedicated Paralympics page to stay across more key moments.
For information on classifications, check out our sport-by-sport guide.
Follow all the action in our live blog.
Live updates
Which Aussies are in action?
All times AEST
Archery:

10:00am: Imalia Oktrininda goes in the women's individual recurve ranking round
3:00pm: Jonathon Milne and Peter Matchant in the individual compound open ranking round
3:00pm: Taymon Kenton-Smith in the men's individual recurve ranking round

Swimming: A big morning of heats to come, with the finals from 6:00pm this evening.

11:39am: Women's 400m freestyle S13: Katja Dedekind
6:14pm: 🏅 Men's 100m backstroke S8 final: Jesse Aungles
6:28pm: 🏅 Men's 200m freestyle S14 final: Liam Schluter and Ricky Betar
6:35pm: 🏅 Women's 200m freestyle S14: Ruby Storm
8:00pm: 🏅 Women's 200m IM SM7 final: Tiffany Thomas-Kane and Isabella Vincent
8:23pm: 🏅Men's 400m freestyle S13 final: Braedan Jason

Rowing: Heats at the Sea Forest Waterway

12:10pm: PR2 Mixed doubles sculls PR2Mix2x: Australia
12:30pm: PR3 Mixed coxed four PR3Mix4+: Australia

Cycling track

12:14pm: Men's C5 4,000m individual pursuit, Alistair Donohoe
2:20pm: 🏅Men's C1-3 1,000m time trial: Gordon Allan (C2) 

Judo: Wayne Phipps takes on Mongolia's Munkhbat Aajim in the men's 66kg elimination round of 16 at 11:30am.
Tennis: Martyn Dunn vs Ezequiel Casco at 12:00pm, followed by Ben Weekes vs Adam Berdichevsky of Israel.
Athletics: Lots of Aussies in action across the day

Sam McIntosh in the men's 400m T52 (11:50am), Jaydon Page, men's 100m T47 (1:36pm), Alissa Jordaan women's 400m T47 (10:25pm)
12:06pm: 🏅 Men's Javelin F38: Corey Anderson and Jayden Sawyer
1:45pm: 🏅 Isis Holt in the T35 women's 100m final

Rugby: Australia takes on Japan at 3:00pm.
Goalball: Australia's women take on China at 3:45pm.
Equestrian: 🏅Dressage individual test Grade III, Emma Booth from 8:14pm.
Table Tennis: Jake Ballestrino (12:00pm), Joel Coughlan (2:00pm), Quin Yang (5:00pm), Rebecca Anne Julian (7:40pm), Lin Ma (9:00pm).
SWIMMING: Katja Dedekind second in her 400m S13 freestyle heat
Katja Dedekind, bronze medallist from the women's 100m back yesterday, has finished second in her heat of the women's 400m freestyle S13.
She came home just behind Carlotta Gilli of Italy.
It should be enough to make the final…
Bit warm in Tokyo today,
So warm in fact that it might force a delay in the tennis, so says Quentin Hull.
SWIMMING: Braedan Jason into final of the S13 400m freestyle
Braedan Jason came second in his heat of the Men's 400m freestyle S13, swimming 4:21.59 to finish 11 seconds behind Ukraine's Kyrylo Garashchenko.
In these longer races, it's all about getting through to the final, and he has done that, qualifying sixth fastest.
Ihar Boki of Belarus qualified fastest with a 4:06. He's the one to beat as current world record holder.
Great new s for Amanda Reid
Key Event
CYCLING TRACK: Amanda Reid wins gold!
Wonderful stuff from Amanda Reid! Gold for the world record holder in the Women's 500m C1-3 time trial.
A world record time of 35.581, which is an average speed of 46.769kph,
She beats Alyda Norbruis into second, Wangwei Qian is third.
Key Event
BASKETBALL: Australia beat Algeria 83-37
Australia were just too strong for Algeria in the end, despite a rally in the second half.
It's finished 83-37 to the Aussies.
Bill Latham led the way for Australia with 16 points, 10 rebounds and five assists.
SWIMMING: Tiffany Thomas-Kane and Isabella Vincent through to Women's 200m IM SM7 final
Two Aussies in action in the Women's 200m IM SM7 heats, Tiffany Thomas-Kane and Isabella Vincent.
And both have made it through to tonight's final!
Great stuff from the Aussies!
ROWING: Erik Horrie into the repechage
Australian Erik Horrie has finished second in his heat of the PR1 Men's single sculls PR1M1x, which mean's he'll compete in the repechage tomorrow.
He finished 35 seconds behind Brazilian Rene Campos Pereira.
ATHLETICS: Isis Holt sprints to a Paralympic record!
A great heat from Isis Holt! She runs a 13.49 to win heat two of the 100m by a distance and qualify for the final!
Only 0.06 outside her world record too. Tidy.
Remember, she's had a break from competing, but appears to have lost none of her race-sharpness. That was excellent, and she's all smiles as she disappears down the tunnel.
She'll be back for the final at 1:45pm AEST. 
WHEELCHAIR BASKETBALL: Australia still in command
It was a better quarter from Algeria, but Australia still outscored them 20-14 to lead 62-31 heading into the final quarter.
TABLE TENNIS: Trevor Hirth falls to defeat against Paul Karabardak
Disappointing for Australia's Trevor Hirth, who is beaten 3-0 by Great Britain and Northern Ireland's Paul Karabardak, 11-5, 11-8, 11-2.
The Welshman is a tough competitor though, who also won his first match yesterday, 3-1 against Bobi Simion.
What are Australia's medal chances today? 
morning straya from the west coast.
how many medal hopes do we have today?

-true blue
Hi, true blue
So, at the moment, we have four swimmers in finals, with the potential for four more to join them in finals after their heat swims coming up.
We also have two cyclists already in a final, with Alistair Donohoe hoping to qualify for the medal races.
Two athletes are in the men's javelin final already too, and Emma Booth will go for gold in the individual dressage later.
So, as things stand, nine. But that is likely to increase throughout the morning.
Firstly, thank you for this blog, it is so helpful! I've just heard on channel 7 that both the men's and women's cycling time trials are medal events today? Is that correct?

-Love the Paralympics!
Hi, Love the Paralympics.
They absolutely are, so the Aussie gold rush could start early today…
We'll be keeping our eye on the velodrome from 11:00am AEST as Amanda Reid goes for gold in the C2 500m time trial.
TABLE TENNIS: Here's your guide of when to watch our table tennis athletes in action
There have been some excellent performances so far in the table tennis, and there are six more matches to keep across today.
Looks like I'm finishing work early today – 3pm date on the couch with the Steelers.

-New fave sport
I'm glad we can help plan your day.
WHEELCHAIR BASKETBALL: Australia in complete control at half time
It's 42-17 at the break and this is turning into something of a rout for the Aussies.
The Rollers are sharing the scoring around too, Bill Latham has not played a second of action in that second quarter, so he has not added to his 10 points from the first quarter, but Tom O'Neill-Thorne has 9 points with 5 assists and Tristan Knowles has 7 points.
The Aussies are only shooting at 54 per cent from the field too, although the Algerians are operating at just 38 per cent.
SWIMMING: Ruby Storm finishes third in her 200m S14 freestyle heat, qualifies for final
A solid swim from Ruby Storm, but she'll have her work cut out should she make the final.
The two British swimmers in the centre lanes, Bethany Firth and Lousie Fiddes, were streets ahead (seven seconds, to be exact).
Worryingly, Firth was swimming well within herself too. She was eight seconds outside her own world record of 2:02.09, although that was set all the way back in 2016 and she's not been close to that time in the intervening years.
It's enough to qualify seventh overall and make the final.
Posted , updated