Australia
Live: Swimmers look to book their spot in finals, athletes go for gold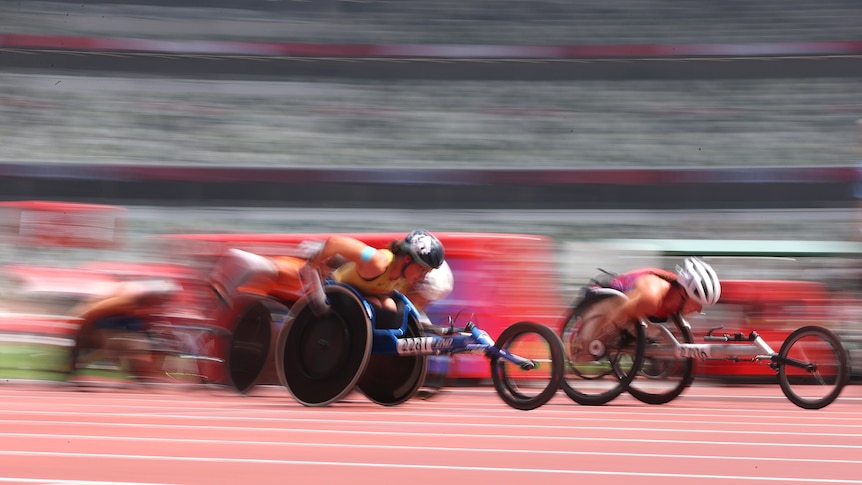 Aussie Paralympic swimmers look to qualify for finals this morning, while Madison de Rozario leads the charge for gold on the track. 
Check out our dedicated Paralympics page to stay across more key moments.
For information on classifications, check out our sport-by-sport guide.
Check out all the action from day five in our live blog.
Live updates
What Aussies are in action today?
Again, there's a bit on today. Here's when to set your sporting alarms for, all times AEST.
Athletics
12:43pm: Men's 400m T54 Round 1 Heat one: Samuel Carter (AUS) PB 46.90 SB 47.34
1:28pm: Men's 100m T13: Heat One: Chad "White Tiger" Perris (AUS) PB/SB 10.81
8:04pm: 🏅 Women's 800m T53 Final: Madison de Rozario, Angela Ballar
8:44pm: 🏅Women's 200m T35 final: Isis Holt PB/SB 27.33 
Swimming
6:21pm: 🏅 Men's 100m Breaststroke – SB14 final: Jake Michel
6:28pm: 🏅 Women's 100m Breaststroke – SB14 final: Ashley van Rijswijk, Paige Leonhardt
6:35pm: 🏅 Men's 50m Freestyle S9 final: Timothy Disken, William Martin
7:17am: 🏅 Women's 50m freestyle S13 final Katja Dedekind
8:39pm: 🏅 Women's 4x100m freestyle relay 34 points
Equestrian
7:00pm: 🏅Team Test to Music Grade V: Australia: 13th in order, Emma Booth – Zidane GIII, Sharon Jarvis – Romanos GIV, Amelia White – Genius 60 GV.
8:14pm: 🏅 Team Test to Music Grade IV: Australia 13th in order (OF 15): Same three as above
Rowing
12:50pm: 🏅  PR3 Mixed Coxed Four PR3Mix4+ Final A: Australia (Alexandra Viney BOW Nikki Ayers (Seat 2) Thomas Birtwhistle (Seat 3) James Talbot (Stroke) Renae Domaschenz (Coxswain)
Table Tennis
6:45pm: 🏅Men's Singles Class 11 Gold medal match: Peter Palos (HUN) vs Samuel Von Einem (AUS)
Rugby
3:00pm: 🥉Australia vs Japan in bronze medal match
Basketball
3:45pm: Men's Group B United States vs Australia (Rollers)
9:30pm: Women's Group A Canada vs Australia (Gliders)
Goalball
8:00pm: Group C Australia vs RPC
Boccia
12:55pm: Individual BC3 Pool D Daniel Michel (AUS) vs Maria Bjurstrom (SWE)
12:55pm Individual BC3 Pool E Jamie McCowan (GB) vs Spencer Cotie (AUS)
Tennis:
4:00pm: then 3rd Court 1 Quad doubles SF: Alcott / Davidson (AUS) vs Moroishi / Sugeno (JPN)
4:00pm: Court 6 Men's Singles 2nd Round: Ben Weekes (AUS) vs Jef Vandorpe (BEL)
Medal tally
Hi Simon
How many medals are we Aussies up to now?
Going well! Thanks for keeping us informed!

-Rose
Hi Rose, yeah we're going very well!
Here's the current tally.
Key Event
ROWING: A third-successive Paralympic silver for Erik Horrie!
Wonderful stuff from Erik Horrie! A third silver medal at a third-successive Paralympics for the Rotorua-born 41-year-old!
He was third all the way until the final 500m, when he overtook Spain's Javier Reja Munoz, who was also overtaken by Brazil's Rene Campos Pereira for Bronze.
Ukraine's Roman Polianskyi lead the whole way in the PR1 Men's Single Sculls to claim gold.
Key Event
ATHLETICS: F64 discus bronze for Sarah Edmiston!
Sarah Edmiston has won bronze in the women's Discus Throw F64 (standing) competition!
She saved her best throw for last, a 37.85m effort that improves her Oceania Record and Personal Best!
The two Chinese athletes, both of whom threw over 40 metres, took gold and silver.
Yue Yang got silver with 40.48, her teammate Juan Yao with a new world record of 44.73 got gold!
ROWING: Erik Horrie is up in the final of the PR1 Men's Single Sculls
ATHLETICS: Five rounds in, Sarah Edmiston sits in bronze medal position
This is terrific stuff from Sarah Edmiston, her third-round throw of 37.41m is enough for her to be sitting in third place after five rounds.
Just one throw to go to possibly improve her position and challenge the two Chinese athletes ahead of her.
ATHLETICS: Angela Ballard finished fourth in her heat of the T53 800m
Ballard was boxed in a little there in the first lap, so had to drop right back around the bend to find some free space.
That allowed the top three to get away a little, and they finished all together to qualify automatically.
Her time of 1:52.50, a season's best, is enough for her to qualify as one of the two fastest non-automatic qualifiers.
ATHLETICS: Sarah Edmiston sets Oceania Record of 36.83 in second round!
Good stuff from Sarah Edmiston in the F64 discus.
She's sitting in third spot after two rounds, behind the two Chinese throwers Juan Yao and Yue Yang.
ATHLETICS: Madison de Rozario qualifies for Women's 800m T53 final
Solid race from Madison de Rozario, who took control at the bell and eased to victory by a solid distance, 1:49.21 was her time.
Top three from each heat qualify, so de Rozario has cruised into the final at 8:04pm AEST tonight. 
Key Event
ATHLETICS: Bronze for Robyn Lambird in the Women's 100m T34!
Great race from Lambird! A season's best time of 18.68!
The favourite from Great Britain and Northern Ireland, Hannah Cockroft got gold in a new world record time of 16.39, powering past her teammate Kare Adenegan to win by three lengths as the two Brits wrapped up the top two spots by a distance.
It was a pack finish for the bronze, and Lambird got it! Awesome stuff!
ATHLETICS: Sarah Edmiston in action in the discus throw F64 (standing)
She's just had her first throw, and it's a solid start for the New Zealand-born WA resident!
She has jumped into the lead in the first round, with three athletes to go, with a throw of 34.87m!
ROWING: Australia win PR2 Mixed Double Sculls B Final
It's not the final they'd have wanted to win, but a positive end to the campaign for the Australian PR2 Mixed Double Sculls crew of Simon Albury and Kathryn Ross.
They blitzed the opposition, finishing in 8:56.69, 8.91 seconds ahead of the Brazilian pair.
SWIMMING: Katja Dedekind into Women's 50m Freestyle S12 final
Good swim from Katja Dedekind to win heat two of the Women's 50m Freestyle S12.
She touched first in 27.44 and will progress to the final as fourth-fastest qualifier.
Kirralee Hayes was also in action in that heat, she came fourth with 28.29 but is not one of the eight fastest so will miss out on a swim this evening.
RUGBY: Sorry, missed that one
I think you might have missed the Steelers on your 'Aussies in Action' summary… They're on at 3pm AEST

-Rugby Bronze Match?
any wheelchair rugby / basketball?

-hi
Hi all, sorry, completely missed that. Just an oversight on my part.
The Steelers are in action in the bronze medal match at 3:00pm.
I'll give myself a firm bump by way of punishment.
TRIATHLON: David Bryant finishes seventh in PTS5
Great work from the 32-year-old from the Gold Coast, now living in Perth.
Seventh spot in his first Paralympics is nothing to sniff at, congratulations that man.
SWIMMING: Grant Patterson misses the final in Men's 50m backstroke
Grant Patterson finished in sixth place in his heat with a time of 58.15 and, unfortunately, misses the final in the Men's 50m backstroke S3.
SWIMMING: Two Aussies reach final of Men's 50m Freestyle S9
Three Aussies went in heat four of the Men's 50m free S9, Alexander Tuckfield, Timothy Disken and William Martin.
William Martin came second in 25.40, Tim Diskin third in 26.11, Alex Tuckfield seventh in 27.32.
Martin and Diskin both qualified for the final in a very, very fast field, so well done to them.
SWIMMING: Ashley van Rijswijk, Paige Leonhardt into Women's 100m Breaststroke – SB14 final
Great stuff from Riverina athlete Ashley van Rijswijk, who stormed home to win her heat of the 100m breaststroke SB14 in a solid 1:18.43.
She's one of three Riverina athletes in action in Tokyo, you can check out the rest of those competing, here.
More good news, in the second heat, Paige Leonhardt gets second place with a very well paced swim to finish in 1:17.80.
Leonhardt qualifies second fastest for the final tonight, van Rijswijk also made it through as the fourth-fastest qualifier.
SWIMMING: Jake Michel sets new Paralympic Record in Men's 100m Breaststroke – SB14!
Boom! That's the way you want to start the programme in the pool!
Jake Michel wins heat one with a stonking 1:05.30!
It was bettered by Japanese athlete Naohide Yamaguchi in the second heat, but still.
He comfortably qualifies for the final tonight.
Posted