Australia
Jake Paul beats Tyron Woodley by split decision in biggest victory of pro boxing career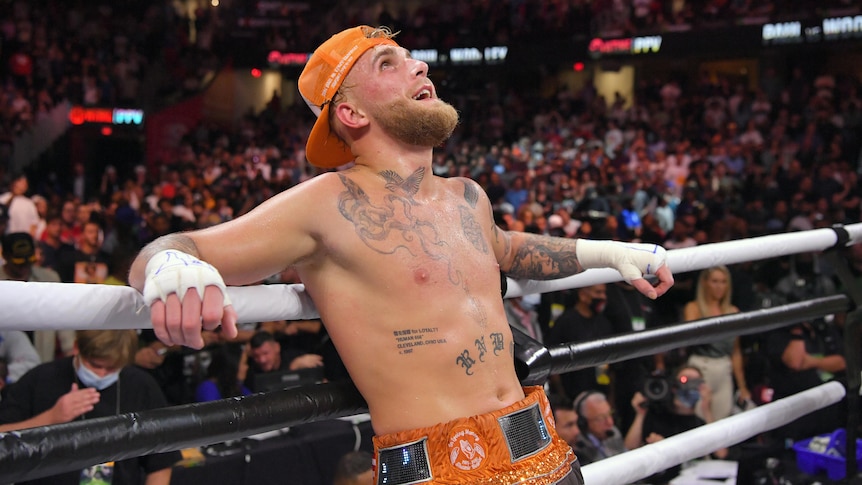 YouTube star Jake Paul beat UFC welterweight champion Tyron Woodley by split decision in Cleveland.  
Key points:
Jake Paul had never before fought longer than two rounds in a professional fight
Woodley said he did enough to with the fight and called for a rematch
Paul said it was the second biggest pay per view fight of the year behind Logan Paul's fight against Floyd Mayweather
The three judges scored the bout 77-75, 75-77 and 78-74 after eight rounds in front of over 16,000 fans.
With the victory, 24-year-old Paul moves to a professional record of 4-0.
"I don't know what to say," Paul said.
"This was a tougher fight than I expected. He's a tough opponent, nothing but respect to him."
Paul, who had never fought beyond two rounds in his fledgling professional career, recovered from a near-knockdown in the fourth when Woodley showed the punching power that made him the UFC welterweight champion in 2016.
Woodley said he thought that was enough for a knockdown, and that he did enough to win the fight, calling for an immediate rematch.
"Of course I want a rematch," he said.
"I hit him, the ropes held him up, I landed more power shots, when he threw the shots they were hitting my glove."
Paul might not have managed to rock Woodley during the fight, but used his reach to counter Woodley's unconventional style, landing combinations well behind the jab to land scoring punches.
Paul said in the post-fight interview that the fight was the second biggest pay per view event of the year, behind his brother Logan's fight against Floyd Mayweather.
On the undercard, Montana Love improved to 16-0-1 with an eye-catching seventh-round stoppage of Belarusian former IBF champion Ivan Baranchyk in a hugely entertaining super lightweight clash.
Highly rated British heavyweight Daniel Dubois knocked out American Joe Cusumano in the first round of their bout as Dubois continues his recovery from a fractured orbital bone picked up against Joe Joyce.
Tommy Fury, younger brother of heavyweight world champion Tyson beat, Anthony Taylor by unanimous decision.
Amanda Serrano retained her WBO, WBC and IBO featherweight titles with a unanimous decision win against Yamileth Mercardo. 
Relive all the action as it happened in our live blog.
Live updates
Paul wins and moves to 4-0
So, another victory for Jake Paul.
Were you impressed by that? Showtime, the host broadcaster, says that 58 per cent of its viewers thought Tyron Woodley had done enough to win that fight.
I'm not so sure, although that might have been the unconventional boxing style of Woodley that skewed my option.
It was undoubtedly his toughest fight to date. Was it enough to prove that he's the read deal as a boxer? He'll probably have to fight an actual boxer first, but that was relatively impressive from the YouTuber.
Everything has to be viewed through the lense of him not being a pro-boxer though, and in that regard that wasn't terrible entertainment.
The undercard was great, with a powerful knockout from Daniel Dubois, a thrilling fight between Ivan Baranchyk and Montana Love, plus a quality women's match between Amanda Serrano and Yamileth Mercado, the former doing nothing to hurt her chances of being thought of as the best pound-for-pound women's boxer around.
And, if Jake Paul can use his profile to get more people watching these boxers, then all power to him.
Thanks as ever for reading along with me, I hope you enjoyed it and we'll see you back here again for another fight soon.
Did Tyron end up getting the tattoo?

-Mac
He didn't seem too pleased about the idea, so I'm guessing not. We'll have to keep our eyes on social media for that…
But don't hold your breath.
Audience comment by Anthony Joshua
This fight is proof of the PT Barnum theory, when he was asked at the turn of the last century why his circus was so popular he replied 'no one ever went broke underestimating the intelligence of the general public' the paul brothers are living proof that same principle still applies
Tyron Woodley thinks he won the fight
Tyron Woodley is now speaking, and he's fronting up to Paul again!
"I feel like I won the fight. Of course I want a rematch," he said.

"I walked him down and landed back."
He says that he had Paul wobbled and that if it wasn't for the ropes, he'd have been knocked out.
Paul's response…
"Of course he wants the payday…"
Enter Woodley again.
"I don't want the payday, I want the fight," he said, posturing.

"If these ropes weren't 7'2″ you've have been down."
Paul simply said: "Get the tattoo and we'll run it back."
The tattoo, by the way, was for Woodley, if he lost, to get "I love Jake Paul" tattooed on his leg.
Not sure that's going to happen to be honest.
Logan Paul: 'Spectacular'
Logan Paul is in the ring now, he said his brother was "spectacular". 
"We got the Jake Paul people didn't know existed."
Jake Paul: 'I give myself a C-'
Let's hear from Jake Paul.
"I don't know what to say. He was a tough opponent

"This was a tougher fight that I expected. He's a tough opponent, nothing but respect to him."

"This is a dream come true.

"I wanna cry, but I'm really tired."
Was Paul annoyed that it was not a unanimous decision?
"100 per cent. Let's be honest, that's bulls***,

"He hit me with the one shot all fight. I don't know what they were looking at."
Who is next?
"Honestly, we'll see.

"I've been boxing for 18 months. I haven't been to the dentist I haven't had my hair cut.

"I might need to chill out for a minute. Find out who I am.

"This is the second biggest PPV event of the year, behind my brother.

"I give myself a C-."
Paul then tells people to stop bullying, saying he was a bully and that it's wrong.
The mum's celebrate
Woodley's mum and Paul's mum hug.
That's nice.
Key Event
Paul wins by split decision!
Here's how the judges scored it.
77-75 in favour of Paul.
77-75 in favour of Woodley.
78-74 in favour of Paul!
Paul gets the win!
Wow, that's closer than I thought!
Paul vs Woodley, Round 8
Final round. If Paul stays out of trouble, I think he's won this.
Paul lands a wild left, but Woodley catches Paul with a left of his own.
Paul comes forward and forces Woodley back.
Woodley is in the centre of the ring though and Paul is staying out of range very well.
Paul lands a jab. Woodley just hasn't had a jab really to speak of.
He lands an overhand right though. Then a straight let gets through.
Paul is backed up against the ropes, but then double jabs to the body to get out of danger.
A right from Woodley lands! That could have been dangerous!
He lands another. Woodley will win the round but not the fight!
We'll go to the scorecards, but I had that 78-74, Woodley winning just two of the six rounds.
Audience comment by Dick Sinass
what a terrible last few rounds. disappointing to say the least
Paul vs Woodley, Round 7
Woodley was urged by his corner to throw everything at Paul in these final two rounds. They know he's behind.
I have him behind by two…
It's a cagey opening to the round, but Paul is backing away.
They exchange a couple as Paul backs away, it's Woodley who is driving this fight forward now.
Woodley misses with an upper cut, Paul lands a weak shot.
A bit more powerful now as Paul gets a combination going to the body.
Woodley is landing though and he is the one who is the main aggressor.
Woodley powers forward and they clinch.
That's round, this could be close if it goes to the scorecards but I think Paul is edging it.
Paul vs Woodley, Round 6
Sixth round of eight.
They clinch at the start of the round and wrestle for a bit before the referee can separate them.
Woodley comes forward and forces Paul into some defensive posturing. They clinch.
Woodley with a right that lands.
Paul responds with an overhand right, and left, and a couple more punches land as Paul shows his power!
Paul forces Woodley back, but Woodley counters.
Woodley has the centre of the ring, he lands with a left hook, but Paul returns with interest.
Paul throws a left out.
Woodley dummies and then they clinch.
Woodley ends the round on the attack and lands a couple of solid punches.
Paul vs Woodley, Round 5
Woodley senses something here, he's going after Paul.
Both men throw a wild series but none connect.
Paul bounces back off the ropes after Woodley threatens again.
Woodley is looking in control for the first time in the fight.
A straight right lands from Woodley just as Paul tries to regain some composure.
Paul lets the hands go, and a couple of those shots landed but it was untidy.
Paul tries to come behind the jab, but then a right does land! 
Good round of boxing, this.
Woodley waiting, being patient, knowing that he can hurt Paul.
Paul throws a left at the body, but nothing behind it.
Woodley comes in with intent though and they clinch.
Paul with a left that lands on the bell and that might just have given him the round!
Paul vs Woodley, Round 4
We just got a replay of that last straight right from Woodley. And it landed. Wow. Big shot.
He's a bit wild now, Paul, as Woodley maintains control of the centre part of the ring, the former MMA man is doing the stalking in this fight.
Paul throws a tentative jab at Woodley.
They clinch after both throw wildly.
Woodley is chasing Paul, throwing the right hand towards the body.
They clinch, then Woodley dismissively slaps Paul's hands away from his head.
Woodley comes in and makes contact with Paul, but is warned for use of the head.
Woodley smacks Paul with a powerful right and he's rocked!
Wow! Paul is on the run, Woodley showboating a little by winding up the right hand! 
Not a knock down, but Paul really needed the ropes and used the ropes!
That was a stunning shot from Woodley and now Paul knows he's in a fight!
Audience comment by Charlie King
I dont particularly like Jake, but i am all the way behind him in this fight
Paul vs Woodley, Round 3
They clinch for the first time, Woodley coming forward.
Paul flicks a glove to Woodley's head, then comes forward but is caught by a good shot from Woodley, a good counter punch to the head.
Paul came forward again though and landed nicely.
Woodley feigns with the jab and follows up with a hook that sends Paul scrambling backwards.
Good combo from Paul! An uppercut landed that made Woodley pay attention a little bit, but he shakes it off.
Paul walks around, then re-sets and looks to land, but Woodley is the one who makes a punch count, landing to the body as Paul crouches down.
Paul and Woodley both bonce on their toes, Woodley occupying centre ring.
Woodley lands a right at the end of the round.
Why is Jake wearing the culturally appropriated old logo for the Cleveland "indians" instead of the new one

-Tom
When the entire sporting history of Cleveland threw up on Paul, I don't think he could decide what stuck and what didn't, to be honest.
Good spot though.
Paul vs Woodley, Round 2
Paul is so much taller, with a more upright stance than Woodley.
Paul lands a right, Woodley shimmies forward but can't land with anything as Paul skips back.
Paul poses for the cameras with his hands up, flexing his biceps. Woodley remains focussed.
Woodley edges forward, Paul backs off.
Paul works the body off the back of a jab to the glove-protected face of Woodley.
Now Woodley darts forward and lands to Paul's face.
Three-punch combo from Paul, a right lands to the body and then a left up top.
Woodley lands a couple of quickly-thrown punches to the lead of Paul but they skimmed, if anything.
Woodley counters at the end.
It's slowish, but that's the second round in the books. 
Audience comment by Dixie Wrecht
i dont think Jake knows what hes signed up for. Team Woodley all the way