Australia
Swimmers add to medal tally, Alcott and Davidson resume quest for tennis gold after rain delay — as it happened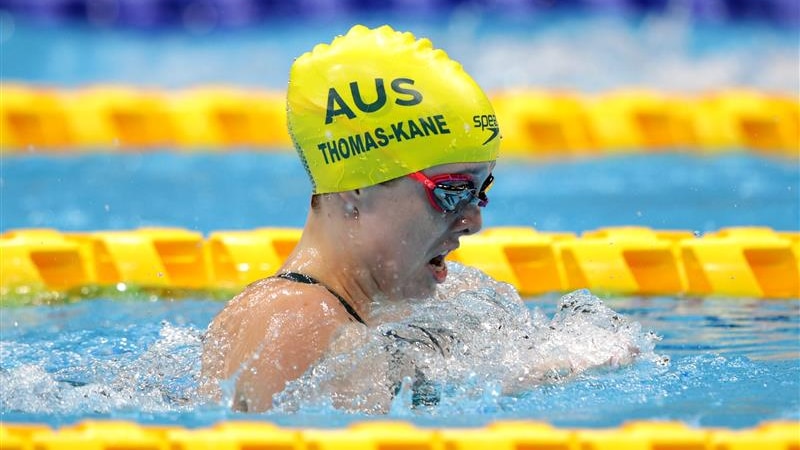 Australia won four medals in the pool on night eight in Tokyo, with Tim Hodge just nudged out for gold in the men's 200m individual medley SM9.
Meanwhile, rain delayed and caused a long delay in Dylan Alcott and Heath Davidson's quest for gold in quad wheelchair tennis.
Check out our dedicated Paralympics page to stay across more key moments, and for information on classifications, check out our sport-by-sport guide.
Look back at all the action from day eight in Tokyo in our live blog.
Live updates
TENNIS: This is happening
How is this the system?
Anyway, it's currently 3-3 in the first set of the gold medal match between the Aussie pair of Dylan Alcott and Heath Davidson, and Duthmen Sam Schroder and Niels Vink.
Tune in on TOK07.
BASKETBALL: Japan leads Australia 35-30 at half-time of their quarter-final
The Aussie men's team is struggling to find much fluidity on offence, while the Japanese were looking smooth as silk to start that quarter.
Japan is shooting at 64 per cent from the field, while the Aussie Rollers are going at 37 per cent and haven't hit a three yet.
The only thing keeping Australia in the game right now is Japan's nine turnovers, leading directly to 10 Aussie points.
TENNIS: Rain forcing a pause in play
They're closing the roof, which takes about eight minutes apparently.
Meanwhile…
One minor problem – I have never watched any tennis. I'm enjoying though 🙂

-Alison
Oh OK. It's like table tennis on the floor?
BASKETBALL: Australia and Japan tied at 14 at quarter-time
Is quarter-time of a quarter-final one-16th-time?
Watching the wheelchair tennis for the first time. No idea what is happening but I love the spare tennis balls stashed in the wheels!

-Alison
Alison, it's just like regular tennis except they're in wheelchairs and they can let the ball bounce twice.
ATHLETICS: Eliza Ault-Connell eighth in 100m T54 final
The 39-year-old, in her first Paralympics since 2004, still has the 400m and marathon to come later in the week.
At the front of the pack, China once again wins the 100m thanks to Zhaoqian Zhou winning a tight battle with Finland's Amanda Kotaja by just 0.03 of a second. American Cheri Madsen, who first competed at a Paralympics way back in 1996, collected a third bronze medal to go with her two golds and four silver from her impressive career.
BASKETBALL: Men's quarter-final between Australia and Japan set to tip-off
Watch on TOK02.
TABLE TENNIS: Australian women's Class 9-10 team guaranteed a medal
Qian Fang wins her singles match against Xiaojing Zhao 3-0 to give the Aussies a 2-0 win over China in the tie.
Just like the Australian men's team, the third player, in this case Milly Tapper, wasn't required.
So Australia awaits either Poland or Brazil in the gold medal match on Friday.
ATHLETICS: Angie Ballard finishes sixth in 100m T53 final
Ballard already has eight medals in the bag from five previous Paralympics, but can't add another here.
1.

Fang Gao (CHN) – 16.29 seconds

2.

Hongzhuan Zhou (CHN) – 16.48

3.

Samantha Kinghorn (GBR) – 16.53
Ballard has the 400m to come tomorrow.
ATHLETICS: Rosemary Little knocked out of medals in F32 shot put
She was in line for bronze with two athletes to come, but Ukraine's Anastasiia Moskalenko has immediately jumped into gold, pushing Little down to fourth.
And, to make matters worse, she's broken the world record of another Aussie, Katherine Proudfoot, with a throw of 7.61 metres.
TENNIS: Dylan Alcott and Heath Davidson coming on court for quad doubles final
Watch it on TOK07.
ATHLETICS: Australia's Rosemary Little in bronze medal position in the F32 shot put final
Her first throw is a foul, but her second of 6.24 metres puts her in the bronze medal position. It's a PB too.
And after having to wait to start her attempts because of medal ceremonies, she's having to wait again after her third throw of 5.94 metres for another one.
Fourth throw is another personal best of 6.26m. But she needs at least 6.50m to move into silver.
And that's her best, so she's sitting in third spot with two athletes to come.
TENNIS: Alcott and Davidson should be on court at 9:30pm AEST
The bronze medal doubles match has moved out onto court 1, so the Aussies' gold medal match will be up next on centre court.
Despite the fact there are no other matches to come, the match won't start before 9:30pm AEST.
TABLE TENNIS: Aussies win doubles match of women's team semi-final
Qian Yang and Li Na Lei won the first game 11-7 before China's Xiaojing Zhao and Guiyan Xiong hit back by winning the second 12-10. But the Australian pair hit back, storming through the third 11-3 and taking the fourth 11-8 to give the Class 9-10 women's team a 1-0 lead in the three-match semi-final.
Shot Putt – Has Rosemary had a throw yet ??

-Want to Know
Not yet. Because of the set-up for F32 final, each athlete goes through through all six of their attempts before the next athlete goes, rather than them going one throw after another.
TABLE TENNIS: Australia's women's Class 9-10 team is taking on China in the semis
where can we watch the table tennis semis vs china?

-table tennis fan
I don't think you can. There are only cameras on tables two and six, and the Australia-China matches are on table one. But I can tell you that Qian Yang and Li Na Lei have just won the first game of the doubles 11-7 over Guiyan Xiong and Xiaojing Zhao.
ATHLETICS: Sam Carter finishes fifth in the men's 100m T54 final
The 30-year-old Aussie had a good start, but he got caught by the top half of field.
At the front of the pack, Thailand's Athiwat Paeng-Nuea, who beats Paralympics legend Leo Pekka Tahti, stopping the Finnish superstar from winning a remarkable FIFTH STRAIGHT gold medal in the event. Yep, he had won every men's 100m T54 gold from Athens 2004 to Rio 2016.
ATLHETICS: Australian Rosemary Little in the F32 shot put
She'll be the sixth putter of shots.
Key Event
SWIMMING: Timothy Hodge wins silver in the 200m individual medley SM9
He leads after the butterfly and backstroke legs. Can he hold them off?
No!
Andrei Kalina has overtaken him in the breaststroke and stormed home to win gold. Hodge gets silver.
The Aussie got mowed down by Kalina in the last 25 metres of the breaststroke leg. Hodge came back at the Russian in the last freestyle leg, but just ran out of pool unfortunately.
So the wait continues for 20-year-old Hodge to win his first Paralympic gold, while Kalina picks up his fifth gold and ninth medal overall.
Ugo Didier of France got bronze.
Posted , updated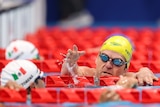 Source link