Australia
Australia and India call it a draw as last-gasp bid for a result falls short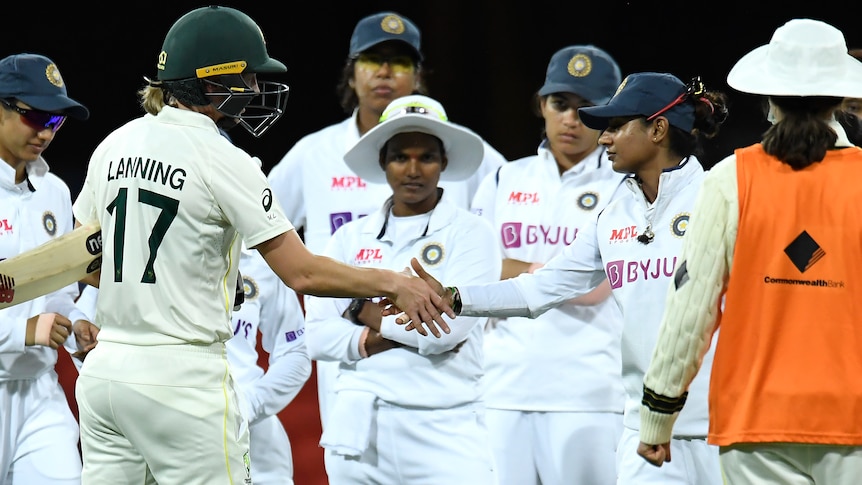 Australia and India's women's Test on the Gold Coast has ended in a draw, with the captains shaking hands after an hour of play in the third and final session on day four.
India had set Australia the impossible task of scoring 272 runs in 32 overs to win after declaring after tea. The hosts had reached 2-36 when the game was called off.
India did take the wickets of openers Alyssa Healy (6) and Beth Mooney (11), but Meg Lanning (17*) and Ellyse Perry (1*) were unbeaten.
India's declaration may have come a little later than expected after Australia had called time on its first innings before the dinner break, still 136 in arrears.
Punam Raut finished 41 not out as India scored 29 off seven overs after tea before India declared at 3-135.
Openers Shafali Verma (52) and Smriti Mandhana (31) gave India a terrific launchpad by putting on 70 in 17.5 overs, but the run rate dipped after two quick wickets to finger spinners Sophie Molineux and Ashleigh Gardner.
Leg-spinner Georgia Wareham, who had been sparingly used, grabbed her first Test wicket by trapping Verma.
Earlier, Australian captain Meg Lanning declared on 9-241 shortly before the scheduled first break on the final day of the pink-ball clash, with Perry unbeaten on 68 off 203 balls.
Earlier, Perry and Gardner (51) extended their overnight partnership to 89.
In her last four innings Perry has scored 472 runs and been dismissed just once and Gardner notched her first Test 50.
Gardner's dismissal triggered a collapse of 5-32 either side of the second new ball.
India's pace trio Pooja Vastraka (3-49) Meghna Singh (2-54) and Jhulan Goswami (2-49) caused plenty of problems with their swing and movement and were well supported by Deepti Sharma (2-36).
Smriti was named player of the match for her century in the first innings.
ABC/AAP
Live updates
Pinned
IT'S A DRAW!
So that is that. It was always the most likely outcome, probably since we lost half of day one and definitely since we also lost half of day two. At the start of play today, it definitely didn't feel like a result was possible – but there was the odd moment tonight when it felt like if a couple of things had fallen into place, something special might be on the cards. In the end, not to be.
The points will be split two-apiece even though India almost entirely outplayed Australia in this Test. They certainly bowled better, and in Smriti Mandhana had the game's outstanding batter. The weather was the killer unfortunately, and had we seen those two night sessions perhaps we would have had a different game. It was a tough Test, a hard-fought Test, but in the end one that petered out.
Thank you so much for joining me on the blog, whether it was just tonight or at any other time throughout the game. Rest assured this is just the start of a looooong summer of cricket blogs, with Tests to come against England for both the women and men. So make sure you head on back when the Ashes get underway in December. See you then!
15th over – Rajeshwari will continue
India needs eight wickets to win, Australia needs 236 runs. There are 18 overs left.
SHOUT! Oof, Perry caught on the crease and struck on the pad. That's really close, maybe missing leg? Or maybe she smashed it. Yeah, that would be it.
Over, a maiden, and that is drinks. Meg Lanning is asking the question here. Do we have to keep doing this?
Mithali Raj relents! The players shake hands, and that is that! The Test is drawn.
14th over – Pooja bowling to Lanning
India needs eight wickets to win, Australia needs 236 runs. There are 19 overs left.
Lanning sees out a maiden. Good time had by all.
Was 9:30 the original scheduled stumps before time was added for rain delays? That would be a reasonable time to shake hands, unless there is a dramatic change in either teams prospects.

-Mike
The half an hour they can add after 9:30pm is just to get the remaining overs in, rather than rain related. But yes, I would say that sounds reasonable too.
13th over – Rajeshwari Gayakwad into the attack
India needs eight wickets to win, Australia needs 238 runs. There are 20 overs left.
Some spin now, let's see what Rajeshwari can extract from this wicket.
Perry off the mark with a single to the on side. Most interesting thing to watch now is Ellyse Perry's batting average. All she will be after is some red ink here.
Two runs from that over, around we go.
12th over – More from Pooja
India needs eight wickets to win, Australia needs 242 runs. There are 21 overs left.
SHOT! Short from Pooja, pulled perfectly by Lanning. Four more.
Solid defence for the rest of the over. Another one down.
11th over – The ball remains with Jhulan
She's bowling to Lanning, but Ellyse Perry is the new batter in. She's been on the field for all but… what? Two hours of this match?
Another lovely ball from Jhulan cuts Lanning in half. Gets a little inside edge on the way through I think, onto the pad and away to third for a single.
She really is quite a fantastic bowler, every ball is on the money. Perry gets through the over.
OUT! MOONEY HOLES OUT! ANOTHER DOWN FOR AUSTRALIA!
A pretty regulation short ball from Pooja draws a poor pull shot from Mooney. The top edge flew easily to Rajeshwari at fine leg, and the catch was a simple one. Again, just a little bit of something for India to chase now. Only eight wickets required.
10th over – Still Pooja
India needs nine wickets to win, Australia needs 246 runs. There are 23 overs left.
I wonder at what point we pull out the handshakes and settle for points shared?
9th over – Jhulan to bowl her fifth over
FOUR! Not the best cover drive from Lanning, but a boundary all the same. Once through the gap, nobody was chasing it down.
Gee, there's another one that has absolutely rolled from back of a length. Lanning so lucky she was able to get down to it.
Another over bowled. We've got 23 to go.
8th over – Pooja running in again
So India need nine wickets in 25 overs.
A single apiece so far in this over. No disrespect to Pooja, but I still don't know why Meghna was dragged.
Over bowled. Around we go.
7th over – More from Jhulan
This Jhulan v Lanning battle is pretty enthralling. I could certainly sign up for three (or five) Tests worth of this.
An optimistic appeal from Jhulan as Lanning got a gigantic inside edge onto her pad. Not sure that was worth appealing for really.
Lanning crosses another one off, well watched.
6th over – Pooja Vastrakar into the attack
Not sure why Meghna only got the two overs there. Not to say Pooja hasn't been bowling well, but I thought Meghna looked really dangerous with the new ball. Anywho.
BEATEN! Mooney hasn't looked comfortable at all in this innings. Or in the first innings either, to be honest.
SHOT! Spoke too soon. That's a blinding cover drive from Beth Mooney. Made the most beautiful sound off the middle of her bat. Four runs.
Just the four off the over. 26 more to bowl.
5th over – Here's Jhulan again
Jhulan is hoping to lure Lanning into a loose shot outside the off stump, but she is yet to take the bait.
Nice punch off the back foot through the covers by Lanning for two. Nice and compact, playing it under her eyes.
It's another incredibly tight over from Jhulan though. She's asking the right questions.
4th over – Meghna charging in again
Mooney tucks one off her pads and takes a single. Lanning takes strike.
BEATEN! She's bowled so, so well with the new ball in this Test. Another one hoops past the outside edge of Lanning's bat.
Lovely cover drive from Lanning through the covers… and I think we have our first three of the match! Good fielding, but good running too.
Two more to Mooney as the over ends. 28 more to bowl.
3rd over still – Jhulan continues
Meg Lanning to the crease. What can the skipper do?
The last ball of the over just shoots a little low, but Lanning keeps it out. More good signs for India though.
Over bowled, 29 to go.
BOWLED HER! HEALY CHOPS ON! JHULAN STRIKES!
A loose shot from Healy, really just hanging her bat outside the off stump in a half-hearted attempt at a shot. She got a thick inside edge on to the stump and has handed some hope to India. Australia have been in between modes here – a little bit positive, but not completely. That attitude is exactly what India wants, and now the tourists are only nine wickets away.
3rd over – Jhulan in again
Mooney drops and runs, and forces a misfield by putting the fielders under some pressure. Just a single.