Australia
Spanish golfer Jon Rahm tests positive to COVID-19, forced to withdraw while leading US PGA event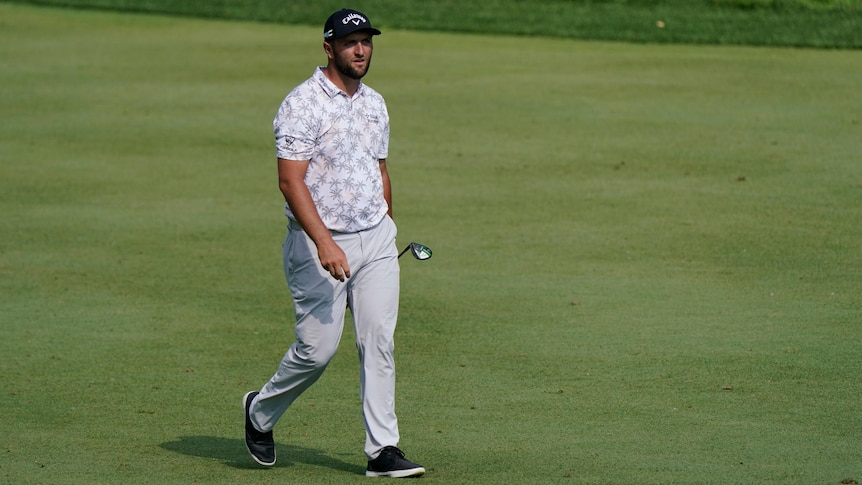 Spanish golfer Jon Rahm has been forced to withdraw from the Memorial Tournament in Ohio while leading by six strokes after he tested positive for COVID-19.
Key points:
Rahm was informed of his positive test after walking off the 18th green
He was forced to withdraw immediately from the tournament
Rahm was leading by six strokes when he withdrew
Rahm was informed of the positive test after completing the third round at the Muirfield Village Golf Club in Dublin.
Television cameras captured the moment the former men's world number one was told by officials about the positive test.
The stunned Rahm put his hand over his face and bent over in agony and disbelief after receiving the news.
Rahm's most recent test, conducted after Friday's (local time) rain-shortened second round, came back positive the following day, having been confirmed while he was on the course.
Loading
"The PGA TOUR's medical advisor notified Rahm immediately upon completion of his round, and under Tour protocols, he will be withdrawn from the competition," the US PGA Tour said in a statement.
"Rahm is now in isolation, and in accordance with CDC guidelines, he will need to remain in isolation through Tuesday, June 15.
"While this is an incredibly unfortunate situation, throughout 50 events since the PGA Tour's return to golf, there have been only four positive tests (including Rahm) within competition; Rahm is the first positive, asymptomatic case as part of the Tour's routine, contact-tracing protocols."
Rahm, the defending champion and current world number three, seemed poised for victory in Dublin.
He had produced a commanding performance that included a hole-in-one to complete his second round and an 8-under-par 64 to tie two tournament records.
His withdrawal left Patrick Cantlay and Collin Morikawa tied for the lead at 12-under.
"It's kind of the worst situation for something like that to happen and he played awesome today and it's just, it's really a shame," Cantlay said.
It was a shocking turn of events for Rahm given the timing.
He was close to perfect on the back nine, running off six birdies in an eight-hole stretch to turn a one-shot lead into a six-shot cushion.
Rahm tied the Memorial record for largest 54-hole lead set by Tiger Woods in 2000.
AP/Reuters
Source link