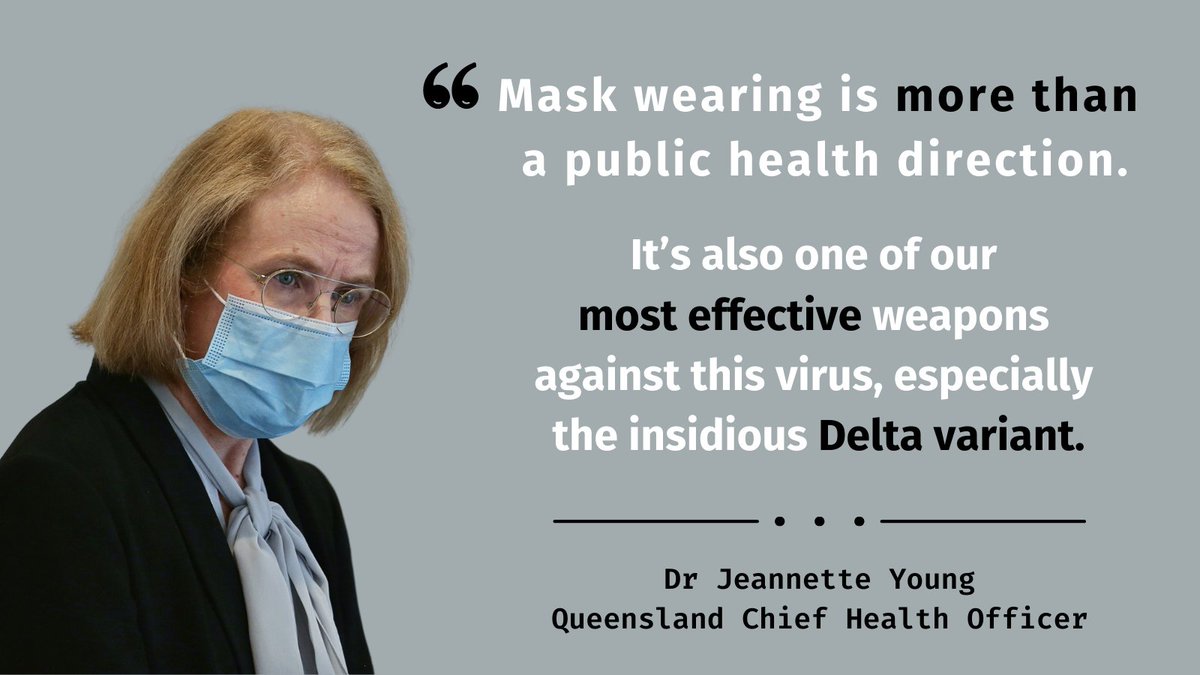 4th August 2021 – 10am update
Queensland has recorded 16 new local COVID-19 cases in the last 24 hours linked to the present West Brisbane outbreak, and a further mystery Cairns case was reported yesterday.
The 16 previously unreported cases are all linked to the Indooroopilly cluster, Deputy Premier Steven Miles mentioned.
4 of them are linked to the Ironside State Faculty, together with one teacher; two to Indooroopilly State High School; one to Brisbane Boys Grammar; whereas 9 are close contacts or relations of current circumstances.
"That brings this outbreak to 63 genomically-linked cases meaning that in less than a week, this has turned out to be our largest outbreak since the first wave last year," Mr Miles stated.
The supply of the Cairns case remains unknown, though it has been confirmed to be the Delta strain.
Mr Miles stated the case had been vaccinated.
Two different cases were reported in hotel quarantine.
This QLD Exposure site list web page will be updated daily
Date
Place
Suburb
Arrival time
Departure time
Wednesday 21 July 2021
Brisbane City Backpackers HQ
380 Upper Roma St
Brisbane City
12am
11.59pm
Wednesday 21 July 2021
Joe's Place Backpackers
390 Upper Roma St
Brisbane City
12am
11.59pm
Wednesday 21 July 2021
Goodstart Early Learning Parkwood
4 Woodlands Way
Parkwood
9am
10am
Wednesday 21 July 2021
Niku Ramen
1015 Sandgate Road
Nundah
4pm
5pm
Wednesday 21 July 2021
Goodstart Early Learning Parkwood
4 Woodlands Way
Parkwood
5pm
6pm
Thursday 22 July 2021
Brisbane City Backpackers HQ
380 Upper Roma St
Brisbane City
12am
11.59pm
Thursday 22 July 2021
Joe's Place Backpackers
390 Upper Roma St
Brisbane City
12am
11.59pm
Thursday 22 July 2021
Goodstart Early Learning Parkwood
4 Woodlands Way
Parkwood
9am
10am
Thursday 22 July 2021
Goodstart Early Learning Parkwood
4 Woodlands Way
Parkwood
5pm
6pm
Thursday 22 July 2021
Prince of Wales Hotel
100 Buckland Rd
Nundah
8pm
9pm
Friday 23 July 2021
Brisbane City Backpackers HQ
380 Upper Roma St
Brisbane City
12am
11.59pm
Friday 23 July 2021
Joe's Place Backpackers
390 Upper Roma St
Brisbane City
12am
11.59pm
Friday 23 July 2021
Goodstart Early Learning Parkwood
4 Woodlands Way
Parkwood
9am
10am
Friday 23 July 2021
Centrelink Nundah
1283 Sandgate Rd
Nundah
9.45am
10am
Friday 23 July 2021
Burger Urge
1231 Sandgate Rd
Nundah
9.50am
10.30am
Friday 23 July 2021
Centrelink Chermside
18 Banfield St
Chermside
10.37am
10.54am
Friday 23 July 2021
Centrelink Chermside
18 Banfield St
Chermside
11.22am
12.07pm
Friday 23 July 2021
Goodstart Early Learning Parkwood
4 Woodlands Way
Parkwood
5pm
6pm
Saturday 24 July 2021
Brisbane City Backpackers HQ
380 Upper Roma St
Brisbane City
12am
11.59pm
Saturday 24 July 2021
Joe's Place Backpackers
390 Upper Roma St
Brisbane City
12am
11.59pm
Saturday 24 July 2021
Hakataya Ramen – FF-1, Pacific Fair Shopping Centre
2/32 Hooker Blvd
Broadbeach Waters
2.10pm
2.40pm
Saturday 24 July 2021
Hero Sushi – Pacific Fair Shopping Centre
2/32 Hooker Blvd
Broadbeach Waters
2.25pm
2.45pm
Saturday 24 July 2021
Pacific Fair Shopping Centre – Male Toilets – Ground Floor adjacent to Fresh Food Precinct.
2/32 Hooker Blvd
Broadbeach Waters
2.30pm
2.45pm
Saturday 24 July 2021
Toilets between UQ Basketball and UQ Netball Courts
Sir William Macgregor Drive
St Lucia
3.50pm
5pm
Saturday 24 July 2021
Shalom Restaurant
Shop 2/224 Hawken Drive
St Lucia
5.13pm
6.30pm
Sunday 25 July 2021
Brisbane City Backpackers HQ
380 Upper Roma St
Brisbane City
12am
11.59pm
Sunday 25 July 2021
Joe's Place Backpackers
390 Upper Roma St
Brisbane City
12am
11.59pm
Sunday 25 July 2021
Blunder Road Country Markets
3/150 Blunder Rd
Oxley
8.30am
9.10am
Sunday 25 July 2021
ALDI Oxley
146 Blunder Rd
Oxley
8.55am
9.25am
Sunday 25 July 2021
Chemist Warehouse Oxley
146 Blunder Rd
Oxley
9.10am
9.30am
Sunday 25 July 2021
Royal Brisbane Hospital, UQ Health Science Building
School Central, Fig Tree Dr
Herston
10.44am
1.30pm
Sunday 25 July 2021
Royal Brisbane Hospital Dr James Mayne Building Level 3 Coronary Care Unit, Pod 1 Western section, and seats outside CCU
Butterfield St
Herston
5.43pm
6.10pm
Sunday 25 July 2021
McDonalds – Jindalee
Homemaker City, 12A Goggs Rd
Jindalee
6.20pm
6.55pm
Monday 26 July 2021
Brisbane City Backpackers HQ
380 Upper Roma St
Brisbane City
12am
11.59pm
Monday 26 July 2021
Joe's Place Backpackers
390 Upper Roma St
Brisbane City
12am
11.59pm
Monday 26 July 2021
Ironside State School
2 Hawken Drive
St Lucia
12am
11.59pm
Monday 26 July 2021
Outside School Hours Care, Ironside State School
2 Hawken Drive
St Lucia
12am
11.59pm
Monday 26 July 2021
Otto Hirschfeld Building. Level 2, Lab room 210
The University of Queensland, 280-284 Sir Fred Schonell Dr
St Lucia
9.57am
10.30am
Monday 26 July 2021
Lees & Henschell Optometry Kenmore
12 Wongabel St
Kenmore
3pm
3.30pm
Tuesday 27 July 2021
Brisbane City Backpackers HQ
380 Upper Roma St
Brisbane City
12am
11.59pm
Tuesday 27 July 2021
Joe's Place Backpackers
390 Upper Roma St
Brisbane City
12am
11.59pm
Tuesday 27 July 2021
Ironside State School
2 Hawken Drive
St Lucia
12am
11.59pm
Tuesday 27 July 2021
Outside School Hours Care, Ironside State School
2 Hawken Drive
St Lucia
12am
11.59pm
Tuesday 27 July 2021
Modwest Building
The University of Queensland, 280-284 Sir Fred Schonell Dr
St Lucia
7.28am
11.40am
Tuesday 27 July 2021
Indooroopilly State High School
111 Ward St
Indooroopilly
8am
10am
Tuesday 27 July 2021
Duhig North Building (Library)
The University of Queensland, 280-284 Sir Fred Schonell Dr
St Lucia
11.44am
2.45am
Tuesday 27 July 2021
Building 69, rooms 511, 512, 513
The University of Queensland, 280-284 Sir Fred Schonell Dr
St Lucia
2.54pm
6pm
Tuesday 27 July 2021
Briki Espresso & Gelati Bar St Lucia
2/28 Hawken Dr
St Lucia
3.40pm
4pm
Tuesday 27 July 2021
Abel Smith Lecture Theatre Building 23
The University of Queensland, 280-284 Sir Fred Schonell Dr
St Lucia
6pm
7pm
Tuesday 27 July 2021
JKA Karate
Holy Family School Hall, 37 Ward Street
Indooroopilly
6pm
7.40pm
Wednesday 28 July 2021
Brisbane City Backpackers HQ
380 Upper Roma St
Brisbane City
12am
1am
Wednesday 28 July 2021
Joe's Place Backpackers
390 Upper Roma St
Brisbane City
12am
1am
Wednesday 28 July 2021
Ironside State School
2 Hawken Drive
St Lucia
12am
11.59pm
Wednesday 28 July 2021
Outside School Hours Care, Ironside State School
2 Hawken Drive
St Lucia
12am
11.59pm
Wednesday 28 July 2021
Modwest Building
The University of Queensland, 280-284 Sir Fred Schonell Dr
St Lucia
7.30am
10am
Wednesday 28 July 2021
Indooroopilly State High School – including after school activities
111 Ward St
Indooroopilly
8am
4.30pm
Wednesday 28 July 2021
Qantas Flight QF2362
Brisbane to Rockhampton
Brisbane to Rockhampton
8.30am
9.50am
Wednesday 28 July 2021
Coles Moggill Shopping Village
3366 Moggill Road
Moggill
9.10am
9.30am
Wednesday 28 July 2021
Moggill Village News / Australia Post Bellbowrie
3366 Moggill Road
Moggill
9.30am
9.45am
Wednesday 28 July 2021
Southern departure female toilet (located in security check in area) – Rockhampton Airport
81 Canoona Rd
West Rockhampton
9.39am
10am
Wednesday 28 July 2021
Caltex Gracemere
10 McLaughlin Street
Gracemere
10.17am
10.19am
Wednesday 28 July 2021
Rookwood Weir
Worksite & Workers Camp onsite at Rookwood Weir
Rookwood Weir
11.30am
11.59pm
Wednesday 28 July 2021
Bus Route 66, departed at 1240
UQ Lakes Bus Station to PA Hospital Bus Station
Bus Route 66
12.40pm
1.05pm
Wednesday 28 July 2021
Bus Route 28, departed at approx. 1430
PA Hospital Bus Station to UQ Lakes Bus Station
Bus Route 28
2.30pm
2.55pm
Wednesday 28 July 2021
Bus stop waiting area Gregory Tce at Torrington street, stop 5, Spring Hill
Gregory Tce at Torrington street, stop 5
Spring Hill
3pm
3.18pm
Wednesday 28 July 2021
Bus route 411
Gregory Tce at Torrington street, stop 5, Spring Hill to Swann Rd at Ironside School, stop 23/24, St Lucia
Bus route 411
3.18pm
4pm
Wednesday 28 July 2021
Australian Girls' Choir practise – Brigidine College
53 Ward St
Indooroopilly
5pm
6pm
Wednesday 28 July 2021
Grill'd Toowoong
Shop G44/9 Sherwood Rd
Toowong
5.15pm
6pm
Wednesday 28 July 2021
Southbank TAFE F Block Level 5 Rm 5015
66 Ernest St
South Brisbane
7pm
9pm
Thursday 29 July 2021
Rookwood Weir
Worksite & Workers Camp onsite at Rookwood Weir
Rookwood Weir
12am
11.59pm
Thursday 29 July 2021
Ironside State School
2 Hawken Drive
St Lucia
12am
11.59pm
Thursday 29 July 2021
Outside School Hours Care, Ironside State School
2 Hawken Drive
St Lucia
12am
11.59pm
Thursday 29 July 2021
AcuHealth acupuncture clinic
45 Kedron Brook Road
Wilston
6.45am
8.10am
Thursday 29 July 2021
Indooroopilly State High School
111 Ward St
Indooroopilly
8am
3.30pm
Thursday 29 July 2021
Ipswich CBD Community Vaccination Clinic
Nicholas Street Mall, (Ipswich Mall)
Ipswich
8am
10.20am
Thursday 29 July 2021
Brisbane Grammar School (Boys) including extracurricular activities
24 Gregory Terrace
Spring Hill
8am
3pm
Thursday 29 July 2021
Family Dental Clinic – West End
3/12 Browning St
South Brisbane
8.10am
9am
Thursday 29 July 2021
Myer
Indooroopilly shopping centre
Indooroopilly
8.50am
9.30am
Thursday 29 July 2021
K & L Endo
Level 1, Sunnybank Specialist Centre, 243 McCullough St
Sunnybank
9am
12pm
Thursday 29 July 2021
Seed Heritage
Indooroopilly shopping centre
Indooroopilly
9.20am
9.35am
Thursday 29 July 2021
Target
Indooroopilly shopping centre
Indooroopilly
9.25am
9.50am
Thursday 29 July 2021
H and M
Indooroopilly shopping centre
Indooroopilly
9.45am
10.10am
Thursday 29 July 2021
Target
Indooroopilly shopping centre
Indooroopilly
10am
10.15am
Thursday 29 July 2021
Kmart
Indooroopilly shopping centre
Indooroopilly
10.10am
10.45am
Thursday 29 July 2021
Stacks Discounts Store (next to Daiso near Aldi Lvl1)
Indooroopilly shopping centre
Indooroopilly
10.35am
10.50am
Thursday 29 July 2021
Country Road
Indooroopilly shopping centre
Indooroopilly
10.45am
11am
Thursday 29 July 2021
Highgrove Bathrooms
899 Stanley St East
East Brisbane
11am
11.25am
Thursday 29 July 2021
Darwin's Café
Building 94, The University of Queensland, Slip Road
St Lucia
11am
11.45am
Thursday 29 July 2021
Esquire Male Grooming Barber
Shop 4B 19/23 Cribb St
Milton
11.45am
12.30pm
Thursday 29 July 2021
Andonis Café & Bar
4/281 Station Rd
Yeerongpilly
11.50am
1.45pm
Thursday 29 July 2021
That Viet Place
342 McCullough St
Sunnybank
12pm
12.40pm
Thursday 29 July 2021
Southside Bistro
49/342 McCullough St
Sunnybank
12.25pm
12.55pm
Thursday 29 July 2021
Bayleaf Balinese Restaurant
Cnr Gatton St &, Lake St
Cairns City
12.45pm
2.15pm
Thursday 29 July 2021
Darwin's Café
Building 94, The University of Queensland, Slip Road
St Lucia
2pm
3.15pm
Thursday 29 July 2021
Coles Jindalee
Corner Goggs and Sinnamon Rds
Jindalee
2.55pm
3.15pm
Thursday 29 July 2021
Terry White Chemmart Jindalee
4/168 Sinnamon Rd
Jindalee
3pm
3.20pm
Thursday 29 July 2021
Bus stop waiting area Gregory Tce at Torrington street, stop 5, Spring Hill
Gregory Tce at Torrington street, stop 5
Spring Hill
3pm
3.15pm
Thursday 29 July 2021
OHSC classrooms and play area
Playhouse Parent and Childcare Centre, UQ St Lucia Campus
St Lucia
3.08pm
5.21pm
Thursday 29 July 2021
Bus route 411
Gregory Tce at Torrington street, stop 5, Spring Hill to Swann Rd at Ironside School, stop 23/24, St Lucia
Bus route 411
3.15pm
3.51pm
Thursday 29 July 2021
Ethos Orthodontics Toowong
8/48-52 Sherwood Rd
Toowong
3.55pm
4.30pm
Thursday 29 July 2021
Bluewater Village Early Learning
1-7 Maritime Way,
Trinity Beach
4pm
11.59pm
Thursday 29 July 2021
Sono School of Music – Station Rd Studio
1/30 Station Road
Indooroopilly
4.20pm
5pm
Thursday 29 July 2021
Court 1 – Western Districts Netball Association
Faulkner Park, Waratah Ave
Graceville
4.30pm
5.40pm
Thursday 29 July 2021
JKA Karate
Holy Family School Hall, 37 Ward Street
Indooroopilly
6pm
7.40pm
Thursday 29 July 2021
Sushi Train Indooroopilly
Shop 2, Indooroopilly Junction, 100 Coonan St
Indooroopilly
6.12pm
7.15pm
Thursday 29 July 2021
St Peters Lutheran College – Debating event Room MSN3
66 Harts Rd
Indooroopilly
7.20pm
8.30pm
Friday 30 July 2021
Rookwood Weir
Worksite & Workers Camp onsite at Rookwood Weir
Rookwood Weir
12am
4pm
Friday 30 July 2021
Bluewater Village Early Learning
1-7 Maritime Way
Trinity Beach
12am
11.59pm
Friday 30 July 2021
Ironside State School
2 Hawken Drive
St Lucia
12am
11.59pm
Friday 30 July 2021
Outside School Hours Care, Ironside State School
2 Hawken Drive
St Lucia
12am
11.59pm
Friday 30 July 2021
Brisbane Grammar School (Boys) including extracurricular activities
24 Gregory Terrace
Spring Hill
6.30am
3pm
Friday 30 July 2021
Endoscopy Suite and Recovery area, Sunnybank Private Hospital
245 McCullough St
Sunnybank
7.55am
12.15pm
Friday 30 July 2021
Brisbane Girls Grammar School – All of campus Including Open Day Event and Extracurricular activities
70 Gregory Terrace
Spring Hill
8am
8.30pm
Friday 30 July 2021
Studio 99 Fitness Centre
339 Coronation Dr
Milton
8.10am
9am
Friday 30 July 2021
John Oxley Centre – Male toilets ground level -North tower
339 Coronation Dr
Milton
8.10am
9am
Friday 30 July 2021
Hall Property Solution Unit
2nd Floor, 10/621 Coronation Dr
Toowong
8.30am
11.40am
Friday 30 July 2021
1300SMILES Dental Practice, Cairns Central Shopping Centre: Waiting room and reception area
Ground level, 1/21 Mcleod St
Cairns City
8.40am
10.30am
Friday 30 July 2021
Ampol Foodary (previously Caltex Starmart), Hyperdome
6 Leda Dr
Shailer Park
8.45am
9.15am
Friday 30 July 2021
Bus Route 412, departed at 0945
Sir Fred Schonell Dve, St Lucia to UQ Chancellor's Place, University of Queensland
Bus Route 412
9.45am
10.05am
Friday 30 July 2021
Udonya Tokoton Restaurant
Shop 86 Sunnybank Plaza, 358 Mains Rd
Sunnybank
11.40am
12.20pm
Friday 30 July 2021
Formosa Asian Market
Shop 88 Sunnybank Plaza, 358 Mains Rd
Sunnybank
12pm
12.40pm
Friday 30 July 2021
Oche Fortitude Valley, 1st floor & 1st floor toilet
111 Constance St
Fortitude Valley
12.12pm
3.30pm
Friday 30 July 2021
Female toilet near Coles, Sunnybank Plaza
Sunnybank Plaza, 358 Mains Rd
Sunnybank
12.15pm
12.30pm
Friday 30 July 2021
Coles, Sunnybank Plaza
Sunnybank Plaza, 358 Mains Rd
Sunnybank
12.20pm
1.15pm
Friday 30 July 2021
Bus Route 412, departed at approx. 1225
UQ Chancellor's Place to Stop 19 Sir Fred Schonell Dve, St Lucia
Bus Route 412
12.25pm
12.55pm
Friday 30 July 2021
Kua Thai Isan Traditional Thai Restaurant
Sungold Arcade, 153C Scarborough St
Southport
12.30pm
2pm
Friday 30 July 2021
Pacific Petroleum
138 McCullough St
Sunnybank
12.40pm
1.05pm
Friday 30 July 2021
Saigon Yummy
8/225 Hawken Drive
St Lucia
1.15pm
1.55pm
Friday 30 July 2021
Bupa Dental Toowong
36 Jephson St
Toowong
2.55pm
3.25pm
Friday 30 July 2021
Bus stop waiting area Gregory Tce at Torrington street, stop 5, Spring Hill
Gregory Tce at Torrington street, stop 5
Spring Hill
3pm
3.26pm
Friday 30 July 2021
Sharee Skye Dance Classes
9/39 Campbell St
Toowong
3pm
5.15pm
Friday 30 July 2021
Georgie Parkes Swim School
2 Hawken Drive
St Lucia
3pm
3.45pm
Friday 30 July 2021
Bus route 411
Gregory Tce at Torrington street, stop 5, Spring Hill to Swann Rd at Ironside School, stop 23/24, St Lucia
Bus route 411
3.26pm
3.57pm
Friday 30 July 2021
Jacqui E
Level 2 – Indooroopilly Shopping centre. 322 Moggill Rd
Indooroopilly
3.30pm
3.50pm
Friday 30 July 2021
Refreshed Massage
Level 1 – Indooroopilly Shopping centre. 322 Moggill Rd
Indooroopilly
3.50pm
4.45pm
Friday 30 July 2021
Kmart
Toowong Village Shopping Centre, Shop L28, 9 Sherwood Road
Toowong
4.05pm
5.05pm
Friday 30 July 2021
Georgie Parkes Swim School
2 Hawken Drive
St Lucia
4.15pm
4.45pm
Friday 30 July 2021
Mirchh Masala Impex, Grocery Store and Restaurant
3/110 Logan Rd
Woolloongabba
5pm
5.45pm
Friday 30 July 2021
Cielo Rooftop Bar
Rooftop, 209 Brunswick St
Fortitude Valley
6pm
10pm
Friday 30 July 2021
Southern departure female toilet (located in security check in area) – Rockhampton Airport
81 Canoona Rd
West Rockhampton
6.24pm
8.23pm
Friday 30 July 2021
Qantas Flight QF2365
Rockhampton to Brisbane
Rockhampton to Brisbane
6.40pm
7.50pm
Friday 30 July 2021
Princess Alexandra Hospital, Emergency Department waiting room
199 Ipswich Rd
Woolloongabba
7.29pm
8.35pm
Friday 30 July 2021
IGA Pullenvale
8 McCaskill Road
Pullenvale
8.15pm
8.35pm
Saturday 31 July 2021
Japanese Language Supplementary School, held at St Aidan's Anglican Girls' School
11 Ruthven St
Corinda
8.15am
1pm
Saturday 31 July 2021
Fitzroy Island Adventures, Ferry to Fitzroy Island
Cairns Marlin Marina, 1 Spence St
Cairns City
9am
10am
Saturday 31 July 2021
Court 22 – Western Districts Netball Association,
Faulkner Park, Waratah Ave
Graceville
9.45am
11.30am
Saturday 31 July 2021
UQ Playground St Lucia
Sir William MacGregor Drive
St Lucia
10am
11am
Saturday 31 July 2021
TOMRA recycling centre west end
281 Montague Rd
West End
10am
11.05am
Saturday 31 July 2021
Mr Toys Toyworld
Indooroopilly Shopping Centre
Indooroopilly
10.16am
10.26am
Saturday 31 July 2021
Coles
Indooroopilly Shopping Centre
Indooroopilly
10.28am
11.10am
Saturday 31 July 2021
Mick's Nuts
31 Hardgrave Rd
West End
11.19am
11.30am
Saturday 31 July 2021
St Lucia Pharmacy
26 Hawken Dr
St Lucia
11.20am
11.30am
Saturday 31 July 2021
Hanaromart
Level 1, Indooroopilly Shopping centre, 322 Moggill Road
Indooroopilly
11.25am
11.50am
Saturday 31 July 2021
Coffee mentality
West End Markets
West End
11.30am
11.40am
Saturday 31 July 2021
Izakaya Sushu
Level 1, Indooroopilly Shopping centre, 322 Moggill Road
Indooroopilly
11.40am
12.05pm
Saturday 31 July 2021
Fresh berries direct
West End Markets
West End
11.40am
11.50am
Saturday 31 July 2021
M.Y. Roasting Café
82 Hyde Rd
Yeronga
11.45am
1.15pm
Saturday 31 July 2021
McDonalds Indooroopilly
78-80 Coonan Street
Indooroopilly
11.50am
12pm
Saturday 31 July 2021
Charlie fruit and Veg
West End Markets
West End
11.50am
11.55am
Saturday 31 July 2021
Kmart
Level 1, Indooroopilly Shopping centre, 322 Moggill Road
Indooroopilly
11.55am
12.15pm
Saturday 31 July 2021
Trade Winds Seafood Runaway Bay
West End Markets
West End
11.55am
12.05pm
Saturday 31 July 2021
ALDI
Indooroopilly Shopping Centre
Indooroopilly
11.57am
12.38pm
Saturday 31 July 2021
BCC Library
Level 4, Indooroopilly Shopping centre, 322 Moggill Road
Indooroopilly
12pm
12.50pm
Saturday 31 July 2021
Kmart
Indooroopilly shopping centre
Indooroopilly
12.05pm
12.15pm
Saturday 31 July 2021
Juicy Choice
West End Markets
West End
12.05pm
12.15pm
Saturday 31 July 2021
Fitzroy Island Adventures, Ferry to Cairns
Fitzroy Island Jetty
Fitzroy Island
3.45pm
4.30pm
Sunday 1 August 2021
Hidden Café
12-14 Deauville Close
Yorkeys Knob
10am
12.15pm
Monday 2 August 2021
Bluewater Village Early Learning
1-7 Maritime Way
Trinity Beach
12am
11.59pm
Monday 2 August 2021
Hawken Drive Pharmacy
26 Hawken Dr
St Lucia
8.13am
8.20am
Tuesday 3 August 2021
Bluewater Village Early Learning
1-7 Maritime Way
Trinity Beach
12am
11.59pm