Sports
"The dirt from his mind is disgusting!"- Fans slam Abdul Razzaq for his sexist remarks on Nida Dar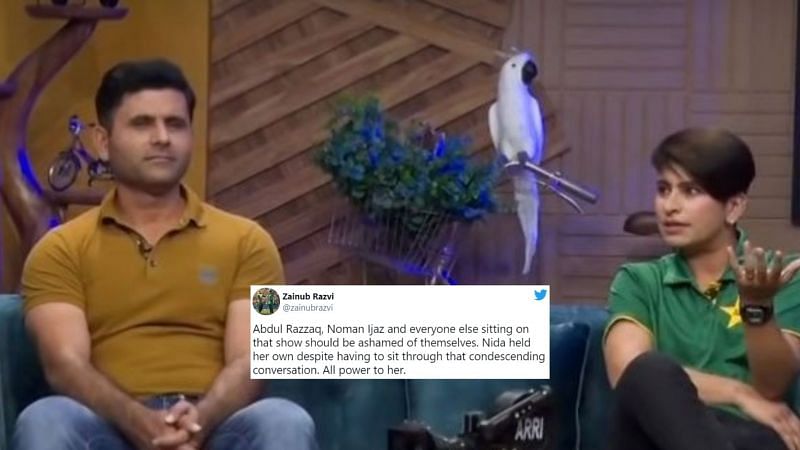 Former Pakistan all-rounder Abdul Razzaq has received criticism for his recent sexist remarks about Pakistan Women all-rounder Nida Dar in a show. Razzaq has been known in the past as someone who tends to pass controversial statements, but this time he went too far and was deservedly called out.
In a show on Neo News in Pakistan, Razzaq and Dar were both invited as guests. In one of the segments of the show, the topic of women in sports was brought up for discussion.
While Nida Dar was explaining how passionate she is about playing the sport, Razzaq began interjecting with his own absurd opinions. He first passed stereotypical comments, remarking that women's cricketers try hard to become as successful as men's cricketers.
He went on to pass more misogynistic comments on Nida Dar's appearance and also on how hard her hands had become playing the game. Razzaq also said women's cricketers lose the will to marry once they completely consume themselves in cricket.
"Their field is as such. When they become cricketers, they strive to be as equal as their male counterparts, if not better than them. They want to prove that not only men, but they can also do it as well. The feeling [to get married] is gone [by the time they excel]. If you shake her hands, you won't even feel she's a girl."
Here is a video of the same:
---
Twitterati slams Abdul Razzaq for sexist comments
Fans on Twitter were shocked to hear what Abdul Razzaq had to say about women's cricket. They felt that for a player who has represented Pakistan at the highest level, his statements were pathetic and condemned his words.
They also slammed him for his stereotypical comments. Here's what the fans had to say:
It remains to be seen whether Abdul Razzaq will apologize for his comments that were in poor taste and made Nida Dar uncomfortable on national television.